5 key takeaways from the most unexpected victory speech in U.S. history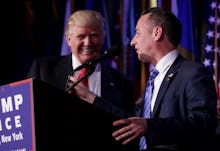 Just before 3 a.m. Eastern on Wednesday morning, Republican president-elect Donald Trump took the stage to give his victory speech after pulling off one of the most stunning presidential upsets in modern United States history.
Here's what you need to know about Trump's first words to the public as their future president.
1. Trump struck a conciliatory tone.
While the tone of Trump's Twitter presence in recent weeks took a dark and sometimes ominous tone — and a recent profile in the New York Times described the candidate as preoccupied with striking back at his enemies — a victorious Trump emerged claiming to "seek common ground, not hostility."
After thanking Democratic nominee and former Secretary of State Hillary Clinton for her long record of civil service, Trump said he would respect U.S. citizens of all backgrounds and cited his win as a triumph for the "forgotten" classes of society.
"Every single American will have the opportunity to reach his or her fullest potential," Trump said, later adding he would "get along with all nations willing to get along with us."
2. But then Trump thanked some of the most outspoken arch-conservatives in the country. 
A partial list of those Trump invited on stage or thanked includes:
• Steve Bannon, the former executive chairman of conservative news site Breitbart, which has distinguished itself this news cycle as an online haven for far-right racists.
• Rudy Giuliani, the former New York City mayor who aggressively promoted unfounded theories about Clinton's health during the election and blamed the Black Lives Matter movement for shootings of police.
• New Jersey Gov. Chris Christie, whose former aides were just convicted of political crimes in relation to the Bridgegate scandal, and who roused a crowd at the Republican National Convention in July with a mock trial of Clinton.
• Dr. Ben Carson, who turned Trump surrogate following his defeat in the GOP primaries — and who has said the Muslim faith is incompatible with the presidency, as well as accused Clinton of ties to Lucifer.
• Alabama Sen. Jeff Sessions, one of the most conservative members of the Senate.
3. Trump made big promises, but was light on specifics.
The real estate mogul said "every single American will have the opportunity to realize his or her fullest potential," promised to "double our growth and have the strongest economy anywhere in the world," and rebuild "inner cities" and the nation's infrastructure, putting "millions of our people to work" in the process.
Trump did not mention any specific policy programs in his address.
4. Trump shied away from his most abrasive campaign promises.
There were no mentions of Trump's much-vaunted wall on the southern border of the U.S. with Mexico, calls to deport undocumented immigrants, his plan to ban some or all Muslims from the country or his assertions he would prosecute and jail Clinton. Nor did Trump mention his campaign theme of restoring order against a (nonexistent) crime wave, outside of thanking the NYPD for providing security at the event.
5. The "rigged election" was conveniently no longer rigged.
Though the GOP nominee trumpeted ominous claims of imminent, mass voter fraud for weeks, often in terms with obvious racial implications, a victorious Trump suddenly changed his tune — perhaps because there was no longer any need to pretend the very rare phenomena of in-person voter fraud could explain the eventual result.