What will health care look like under Donald Trump?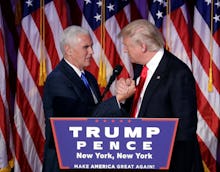 What were once just worrisome campaign promises have become credible threats following Donald Trump's presidential win. Among these is Trump's repeated insistence that one of his first moves in the White House would be to repeal the Affordable Care Act, informally known as Obamacare.
At the second presidential debate in October, Trump said, "Obamacare will never work. It is very bad, very bad health insurance. Far too expensive, and not only expensive for the person that has it, [but] unbelievably expensive for our country." He added, "We have to repeal it and replace it with something absolutely much less expensive." 
Trump doubled down on this hardline stance just a week before Election Day, reassuring his supporters that a Republican Congress would help him achieve this goal. 
"When we win on Nov. 8 and elect a Republican Congress, we will be able to immediately repeal and replace Obamacare," Trump said at a Pennsylvania rally. "Have to do it. I will ask Congress to convene a special session so we can repeal and replace."
Can Trump succeed in repealing Obamacare? 
GOP legislators last attempted to repeal Obamacare in February, when they convened to vote on a bill to kill the healthcare plan. The attempt was just one of more than 60 attempts to repeal Obamacare since it was signed into law in 2012. Every time, Democrats in the House and Senate were able to thwart the GOP's efforts. 
In October, the Conversation explained, "The essential requirement to achieve repeal is Republican control of the White House, the U.S. Senate and the House of Representatives in January 2017."
Now, following Tuesday night's election results, the American people have fulfilled that requirement.
According to Vox, Republicans in Congress have a viable route to repealing the Affordable Care Act with just a simple majority. 
What will health care look like for women under Trump?
Throughout his presidential campaign, Trump flip-flopped many times when faced with questions about reproductive rights and bodily autonomy. But it's become abundantly clear that the president-elect aligns himself with conservative ideology when it comes to women's rights.
"Millions and millions of women — cervical cancer, breast cancer — are helped by Planned Parenthood," Trump said on the stage of February's Republican debate. He then added: "I would defund it because of the abortion factor." 
Since then, Trump has made a number of worrisome comments about people's access to abortion, including his promise to appoint Supreme Court justices keen on overturning Roe v. Wade. These actions would have countless consequences for reproductive health, and for an idea of what that looks like it helps to focus on the repercussions of defunding Planned Parenthood alone.
In February, a study from the New England Journal of Medicine found that counties in Texas with reproductive health programs excluding Planned Parenthood saw prescriptions for "some of the most effectively birth control options" decrease in those counties, ultimately resulting in a "35% decline in women using methods like IUDs and hormonal injections," as Mic previously reported. 
Those same counties also saw increases in births among women who had once used injectable birth control. 
At the time, Planned Parenthood president Cecile Richards told Mic, "This is what we all feared would happen — that far too many women would be left with nowhere to turn for basic preventive health care."