They gathered to watch Hillary Clinton make history. They went home in despair.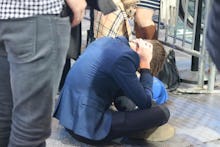 NEW YORK — The shock of Donald Trump's victory was perhaps felt most acutely among the thousands of Hillary Clinton supporters who crowded into the Javits Center in Manhattan, only to watch their champion's campaign go down in flames.
The people who came here on Tuesday came to see history, traveling from places like Mississippi and Nebraska and Arkansas. Donors, supporters, everyday Americans, Clinton staffers, elected officials — each came to see the first woman elected president accept the mantle of leadership and dispatch with her rival's divisive bigotry once and for all. They came to see the woman they had seen unfairly vilified over decades in public life claim her rightful spot as leader of the free world.
Ready for History: "I read books on Lincoln, and I thought, 'This is going to be historic,' and that's why I came," Michelle Dallas, a nurse practitioner from Fayetteville, Arkansas, said before polls closed Tuesday evening. She works six days a week, but decided on a whim Monday to fly up to see Clinton.
"I want to be part of history," Dallas said.
Dallas would witness history, but not the version she and the other members of the crowd were hoping for. Instead of watching Clinton crack that final glass ceiling, they watched through tears as the promise of a female president slipped through their grasp. What many there were expecting to be a jubilant, celebratory occasion morphed into a somber wake for a campaign that had lost to Donald J. Trump, of all people. Clinton didn't even appear on stage.
Hope fades: Men and women, young and old, black and white, all staring blankly at the massive television screen hanging from the literal glass ceiling Clinton had been meant to metaphorically crack. They watched John King and Steve Kornacki tap state after state, turning them from grey to yellow to red. Florida. Ohio. North Carolina. Michigan, closer than it ever should have been. Wisconsin. Wisconsin!
Plenty cried and hugged each other, the full weight of the country's decision coming closer into view, watching as the country they thought they knew revealed itself to be something wholly different. There were moments of celebration and cheering when states like Connecticut and Oregon were called in Clinton's favor.
But even those faded in intensity as the states that made the difference fell to Trump, the mood dampening as the night wore on. The first sign of trouble came when the margin in Florida was closer than what an early voting surge among Latinos had indicated. In the hall, former Democratic National Committee chairwoman and Florida Rep. Debbie Wassermann Schultz pointed to precincts in Broward County that had yet to be counted, saying she remained confident of capturing the Sunshine State but conceding "we're hanging by the seat of our pants."
Even as the Associated Press called Florida for Trump around 10:50 p.m., Democrats close to the campaign remained confident.
"We never needed Florida and still don't," one source said. "It's fine. Darker before dawn," came word from a Clinton staffer as the state was clearly trending Trump's direction.
A nervous anxiety descended upon the main hall as the screen switched from network to network, the channel conspicuously changing just as analysts on screen were pointing out Trump's overperformance and the increasing likelihood that Clinton would come up short.
A grim reckoning: At 11:25 p.m., it became clear that Clinton would need to win Arizona and several remaining states to reach 270 electoral votes. The unthinkable had become reality, and Clinton would not recover. Another member of Clinton's staff waited off the floor near the stage. Asked how they were feeling, the staffer issued a single-word response: "Nauseous."
Those in the crowd struggled to grapple with the loss. A 40-something supporter named Andrew leaned against a metal railing with his forehead buried into his wrists, despondent at the night's shocking turn. Asked to describe what he was feeling, he was at a loss.
The unthinkable had become reality, and Clinton would not recover.
"I think it's premature for me to even know what I'm feeling now," he said. "But I'm not going to lie to you, whatever feelings they are are pretty catastrophic right now. It's probably going to take me a while to process what this means. I don't know what it means for the future of the country."
As he thought through the ramifications of a Trump presidency, the full extent of the Republican victories on Election Day sunk in.
"Essentially we've just elected Donald Trump unchecked with a Republican House and Republican Senate, and he'll get to make Supreme Court appointments that will impact us for the next 20 or 25 years," Andrew said. "We gave someone I think might actually be a crazy person an unrestricted run at the United States government."
On the floor in front of the stage, many attendees sat on the carpet, anxious to hear from a candidate who would end up never leaving the Manhattan hotel suite that served as her campaign's Election Day war room. People started trickling out of the convention center as the clock wore on and Clinton's chances shrunk to nonexistent.
A walk through a large atrium behind the stage reserved for campaign supporters and staff revealed an even more dire scene as the clock struck 1:30 a.m. Tables were littered with half-drunk cups of beer as disheveled men in suits and women in pantsuits took in the full import of the fact the pundits were dissecting onscreen — that Trump would be the next president of the United States.
Boos and hisses came up from the group who had just hours prior been upbeat and cheerful in the same hall. A trio of puffy-eyed, 20-something campaign workers approached one of the bars dispensing booze, only to suffer one last indignity as they were told the supply had run out.
Back in the main hall, the newscasts had mercifully been turned off, sparing the remaining Clinton fans from further heartbreak. Over the next 20 minutes, Trump was declared the winner of Pennsylvania. Clinton campaign chairman John Podesta came out on stage and pledged to fight on, telling the crowd to go home for the night.
As the weary Clinton backers trickled out of the convention center, phones buzzed with news alerts: The AP projected Donald Trump as president-elect of the United States. A campaign aide confirmed soon after that Clinton had placed a call to Trump and conceded the race.