Stock markets seesawing, mostly flat after Donald Trump's win: What it means for you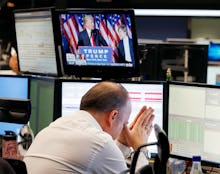 Markets began to stabilize on Wednesday morning after President-elect Donald Trump's stunning upset rattled investors. 
On Tuesday night, futures on the Dow Jones plunged more than 800 points in after-hours trading as Trump's victory unfolded, and S&P and Nasdaq futures fell enough to prompt a halt in trading.
By Wednesday, market movements were more muted and mixed.
"The market's initial response to the probability of a Trump win was, predictably enough, one of shock and fear as the prices of traditionally risky assets tumbled and perceived safe havens rose," James Athey, fixed income fund manager at Aberdeen Asset Management, said in an email to CNBC. "However the increased prospect of tax cuts and a generally pro-growth set of policies from him, aided and abetted by the Republican clean sweep of Congress, has seen some of this initial reaction begin to reverse."
Many predictions about the ramifications Trump's win have indeed been dire. But at one point on Wednesday morning, all of the major stock indices were up as investors processed some of Trump's business-friendly policies, like deregulation. 
"It's an amazingly impressive recovery off the lows for risk assets," Craig Collins, a managing director at Bank of Montreal, told Bloomberg. "Now the early losses are getting erased."
CNBC pointed out that the markets may have actually fared better on the revelation of a Trump victory than they did in either 2008 or 2012, after the elections of President Barack Obama. 
Of course, there's a lot more to an economy than what's going on in the trading markets — longer-term effects have yet to unfold.
"The shock of this outcome makes Brexit look like a picnic, and it is," said Greg McBride, a certified financial adviser with Bankrate, in an email to Mic. "The reverberations of this could bring the onset of recession in 2017."
Economist Paul Krugman had a similar reaction to the election, writing early Wednesday morning that we are likely looking at a global recession.
With all the confusion, experts suggest it's a good time to take a pause before doing anything rash with your money. 
"I'd say it's a good moment for investors to ignore the headlines, ignore their own emotions and stick to whatever plan they had in place before last night," said James Osborne, a certified financial planner at Bason Asset Management. "We're still not very good at predicting the future."
Besides, there are also likely to be a number of beneficiaries to Trump's plans, particularly his plan to slash taxes, which would have a likely chance of passing with the GOP controlling all three branches of government. 
That would be a boon to heavily regulated industries like oil and natural gas, which will likely fare better under his presidency. Defense stocks are also likely to fair well, and prison stocks are already soaring.
Even banks could outperform, despite an ostensible preference for Clinton: Shares in many of the big banks fell upon the first indication of a Trump victory, but then proceeded to rise on the prospect of lighter regulation. 
For those who see parallels to the Brexit vote given Trump's populist and isolationist rhetoric, there is, perhaps, some consoling news: Proponents of Brexit were walking back their campaign promises within days of its passage.