Celebrities react with abject horror at an impending Donald Trump presidency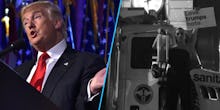 Before a single election result rolled in, Hollywood had already made up its mind on who they wanted to be the next president. Beyoncé and Jay Z, Cher, Madonna, Lady Gaga and even Rihanna had openly stated that they wanted Hillary Clinton to be elected. 
Even on Election Day, celebs like Tracee Ellis Ross, Amy Poehler, America Ferrera and Miley Cyrus posted pictures of themselves after voting, along with hashtags like #ImWithHer to show their support of Clinton. 
But now, those same celebs are facing the fact that Donald Trump is going to be America's next president. Already on social media, many celebrities have started to speak out about how, well, sad and scared they are now. 
Some are understandably petrified: 
Zendaya 
"Speechless... petrified... heartbroken... weary," Zendaya wrote on Instagram. "I don't know what to say or what to do. I guess I just never knew how many people in this country didn't love other people in this country."
Cher 
Seth MacFarlane 
Emmy Rossum
Some are incredibly saddened: 
Ariana Grande
Teyana Taylor 
Brie Larson
"It will be ok. YOU ARE NOT ALONE," Larson wrote on Instagram. "You are valuable. You matter. You are powerful. It is not your fault. I believe you. You are not alone."
Rowan Blanchard
Bethany Cosentino
"I've never in my life felt as awful as I do right now," Cosentino wrote. "All I can say is, wow. Love to all my friends and fans that are feeling this same way right now. Tomorrow is a new day."
Some are just plain baffled: 
Willow Smith
"No," Smith wrote under the viral photo of Little Miss Flint and Donald Trump.
Trace Lysette 
"For all my undecided voters who stayed home, all my 'Bernie or bust' or 'I just don't really like Hillary' folks, I just wanted to know: How do you want your slap?" Lysette said in an Instagram video. 
John Legend
But some are ready to fight back: 
Lady Gaga 
"I want to live in a #CountryOfKindness," Gaga wrote. "He divided us so carelessly. Let's take care now of each other."
Madonna 
"A New Fire Is Lit," Madonna wrote. "We Never Give Up. We Never Give In."
Bradley Whitford 
Rose McGowan 
"Weep now, tomorrow we fight," McGowan wrote. 
Katy Perry 
Mark Ruffalo
Hari Nef