Who will Donald Trump appoint to the Supreme Court?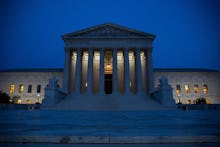 Though electing Donald Trump to the presidency on Tuesday night will have countless consequences for the country — which will reveal themselves gradually over the next four years — one of the greatest impacts Trump will have while in office will come when he appoints new justices to the Supreme Court. 
In May, Trump hinted at his shortlist for potential nominees to fill the seat of the deceased Antonin Scalia. As the New York Times explained: "All are white, and eight of the 11 are men."
The list includes Dianne S. Sykes, a judge on the U.S. Court of Appeals who was appointed by George W. Bush, federal appeals judges Steven M. Colloton and Raymond M. Kethledge, state Supreme Court justices Joan Larsen of Michigan — who'd once worked as clerk to Scalia — Don Willett, Allison H. Eid and Thomas Rex Lee. Judges Raymond W. Gruender and William H. Pryor Jr. are also included on the list, likely for their conservative views on abortion.
According to CBS News, over the next four years, Trump could appoint as many as four justices as many of them reach old age and the brink of retirement.
In the final presidential debate, Trump laid bare his agenda for the Supreme Court, stating point-blank that he would select justices who would overturn Roe v. Wade, the landmark ruling guaranteeing access to abortion.
When then-opponent Hillary Clinton's insisted on the importance of the 1973 ruling, Trump responded with a gruesome and misleading description of abortion procedures. "I think it's terrible if you go with what Hillary is saying," Trump said. "In the ninth month, you can take the baby and rip the baby out of the womb of the mother just prior to the birth of the baby."
While having an anti-abortion stance is certainly only one of many qualities Trump is looking for in a potential justice, it will likely play a significant role in his final decision — one which will shape the lives of women and all Americans long after Trump leaves office.