Vladimir Putin, Rodrigo Duterte, Marine Le Pen congratulate Trump on his historic upset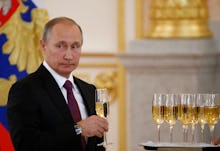 Leaders around the world are reacting to the news that Donald Trump will be the next president of the United States and one of the first to congratulate the Republican candidate was Russian President Vladimir Putin.
Within hours of Trump's historic victory, Putin told Russian state television that he looks forward to working with President-elect Trump.
"[Trump] spoke about resuming and restoring relations with Russia. We understand the way to that will be difficult, taking into account the current state of degradation of relations between the U.S. and Russia," Putin said, according to CNN.
"As I have repeatedly said, that is not our fault that Russia-U.S. relations are in that state. Russia is ready and wants to restore the fully-fledged relations with the U.S. I repeat we understand this will be difficult, but we are ready to play our part in it," he said.
Philippine President Rodrigo Duterte, who has threatened to freeze relations with the Obama administration, offered Trump "warm congratulations" after his win Tuesday night.
Duerte "looks forward to working with the incoming administration for enhanced Philippines-U.S. relations anchored on mutual respect, mutual benefit and shared commitment to democratic ideals and the rule of law," his spokesman said in a statement, according to Reuters.
France's far-right National Front party leader Marine Le Pen took to Twitter to congratulate Trump on his victory.
Iraqi Prime Minister Haider Al-Abadi also expressed support for Trump on Twitter.
In Afghanistan, President Ashraf Ghani released a statement calling the United States "an essential and important strategic partner to Afghanistan in development of the country and fighting terrorism."
"The government of Afghanistan hopes that in close cooperation with the new president of the United States, relations between the two countries expand further and develop in a way that is in the interest of the two countries and nations," he said, according to TOLO News.
German Chancellor Angela Merkel also sent a message to Trump, vowing "close cooperation" with the Trump administration.
"Whoever the American people elect as their president in free and fair elections, that has a significance far beyond the USA," Merkel said, according to Deutsche Welle. 
"Germany and America are bound by their values: democracy, freedom, the respect for the law and the dignity of human beings, independent of their origin, skin color, religion, gender, sexual orientation or political position. On the basis of these values I offer the future president of the United States, Donald Trump, close cooperation."
In Britain, where the nation is still reeling from it's shocking Brexit vote, Prime Minister Theresa May also chimed in on the U.S. election results.
"I would like to congratulate Donald Trump on being elected the next president of the United States, following a hard-fought campaign," May said. "Britain and the United States have an enduring and special relationship based on the values of freedom, democracy and enterprise. We are, and will remain, strong and close partners on trade, security and defense."
"I look forward to working with president-elect Donald Trump, building on these ties to ensure the security and prosperity of our nations in the years ahead," she said.
Even Pope Francis weighed in with a cryptic message on Twitter the morning after the election.