There's not much blocking Donald Trump from enacting his agenda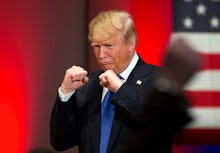 For Americans fearful of Donald Trump's agenda, there's little to take solace in.
When he is sworn in as the 45th president on Jan. 20, he will be greeted by a Republican House and Senate — whose members could help shepherd his policies through Congress.
As president, he can both undo executive orders signed by President Barack Obama — including deferring deportation for undocumented immigrants who came to the country when they were children — as well as create his own.
While policy made up precious little of the 2016 election narrative, there are a handful of policies Trump's supporters have come to define him by — and expect him to fulfill his promise on.
They include repealing Obamacare, building a wall along the U.S. border with Mexico, renegotiating trade deals and jailing Hillary Clinton.
With a Republican-controlled Congress, an Obamacare repeal is likely — though there is likely to be an immense amount of hand-wringing among GOP officials, who have denounced the law for years.
The other agenda items are more challenging, and would require even Republicans to go against their core conservative values.
The wall, for example, would be an incredibly expensive endeavor. And for Republicans who rail against the national debt, allowing the construction of a wall with no plan to pay for it would go against every fiber of their core political values.
It's also unclear if he would pursue charges against Clinton. If that looked likely, it's possible Obama would step in to pre-emptively pardon her to avoid persecution from a Trump administration — something that would be a dark stain on American history.
If that agenda scares Trump detractors, the 2018 congressional map should scare them even more.
While the party in power historically loses congressional seats in the midterm of their presidency, Democrats are defending Senate seats in deep red states, including Indiana, Missouri, Montana, North Dakota and West Virginia.
And the states where Democrats could play offense are equally as challenging, with Nevada being perhaps the one bright spot.
That makes it likely that Trump could gain more Republican senators going into the final two years of his presidency.
Of course, Trump has shown a willingness to alter his views on hot-button issues.
Throughout his public life, he's been on opposite sides of every issue, including abortion rights, immigration and even America's foreign interventions in Iraq and Libya.
It was one of the knocks against Trump throughout the race, but that didn't stop him from pulling off his astonishing upset.
So if there is an uproar over any of these items, he could back down.
But for now, it looks like there's not much stopping Trump.