George Takei has 7 steps for Americans worried about Donald Trump's presidency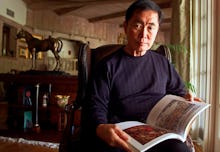 Despite the seemingly insurmountable odds, Donald Trump has been elected as the 45th president of the United States. What this entails is still unclear, but it doesn't bode well for a plethora of groups: LGBTQ communities, people of color, Muslims and women, as a start. 
It's easy, and understandable, to push the panic button — Canada's immigration site crashed Tuesday night, to give an idea of how nervous some people are about a Trump presidency. But many of us will likely remain in America, meaning we will ostensibly live under at least four years of Trump and a GOP senate, congress, Supreme Court and White House cabinet. 
In that light, actor and LGBTQ activist George Takei offered guidance and encouragement Wednesday morning on how concerned Americans can tackle a Trump presidency in a seven-tweet plan. Takei, who himself was a survivor of imprisonment in a Japanese internment camp in America during World War II, starts with a resonant message: "We may not have prevailed, but we must not despair." 
Takei was highly critical of Trump throughout the election, posting a scathing Facebook takedown of the real estate mogul back in June, citing his lack of preparedness for the presidency. He has repeatedly offered Trump a seat at his Broadway show Allegiance, a musical about the World War II internment camps, intimating that Trump's anti-Muslim rhetoric echoes what Japanese-Americans went through decades ago. 
"What Donald Trump is talking about is something that's going to make his logo 'America disgraced again,'" Takei told MSNBC in December. 
Takei's remarks offer a brief respite in an otherwise dark day for America.