'Super Smash Bros' for Nintendo Switch release date puts Cloud & Bayonetta amiibo on hold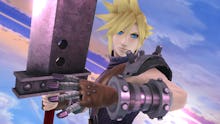 If you're a collector of Nintendo's amiibo figurines generally, or a fan of the Super Smash Brothers-themed amiibo specifically, and are also a completionist you will have to wait a while to finish your collections.
Laura Dale, a writer at Let's Play Video Games who's made a name for herself breaking Nintendo rumors, reports that amiibo figurines for characters Bayonetta and Cloud will not be released in 2016 as originally scheduled. Instead, we may have to wait until a port of Super Smash Bros. is released for the Nintendo Switch.
What are amiibos anyway?
If you're unfamiliar with amiibo, they're a line of smart figurines themed to major Nintendo characters like Mario, and Link from The Legend of Zelda. A chip in the base of each figurine can be read by either a Nintendo 3DS or Wii U console. Scanning it will unlock content for specific games depending which amiibo you have.
The Super Smash Bros. line of amiibo includes various fighters taken from the game's wide roster of characters. Bayonetta, star of a well-regarded franchise by the same name, and Cloud, a hero of the massively popular Final Fantasy series, were the two Super Smash Bros. amiibo next in line for release.
According to Dale, they will have to wait to make their debut once Nintendo releases a port of Super Smash Bros. on the Nintendo Switch. At that point, the Bayonetta and Cloud amiibo will be released simultaneously. 
Super Smash Bros. for Nintendo Switch release date: Get ready to wait
Dale is also reporting that a release of a Super Smash Bros. port for Nintendo Switch is targeted for the first six months following the console's release. The Nintendo Switch is set to launch in March, 2017. So you may have to wait as long as September 2017 to enjoy whatever new content the Bayonetta and Cloud amiibo unlock for SSB.