PS4 Pro features: 5 reasons to upgrade from your old PlayStation 4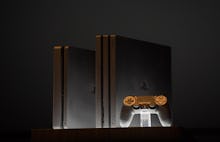 The PS4 Pro is set to hit stores on Thursday, Nov. 10. You may still be debating whether it's worth upgrading from your trusty old PlayStation 4, and Sony just released a new trailer for the beefed-up console designed to win you over.
Still not convinced? To be fair, there's nothing wrong with holding onto your current PS4.  It's still a capable gaming machine, and the PS4 Pro isn't exactly a game-changing upgrade. 
But if you're looking for an excuse to trade in your old console, we've got you covered. Here are five PS4 Pro features that the regular PlayStation 4 just can't compete with.
PS4 Pro: Top 5 features
1. 4K support
This only matters if you own a 4K television, but if you do, it could make purchasing the PS4 Pro an easy decision. The 4K compatibility offers four times the pixels as 1080p, which is what you get with the regular PS4. Even the new user interface is rendered in beautiful 4K for an extremely sharp design. 
2. Improved 1080p visuals
If you don't have a 4K TV, the PS4 Pro can still offer a better visual experience. The console uses a method called supersampling to downscale high-resolution pictures to match your display. As a result, images should look smoother in a variety of current games. Any new titles that launch for PS4 and PS4 Pro moving forward will also support this feature.
3. Beefed-up specs
The PS4 Pro more than doubles the processing power offered by the current PS4. That means higher frame rates for a smoother experience and faster load times. However, the exact results may vary from game to game.
4. Better virtual reality with PSVR
It's no coincidence that the PS4 Pro is timed to launch alongside Sony's PlayStation VR headset. The upgraded console offers a better visual experience in virtual reality, making it possible to see smaller details and read small text.
It could also help the PSVR compete directly with more powerful virtual reality headsets. 
"It gives you that extra rendering fidelity so you get a lot more anti-aliasing, and it actually brings the visuals a lot more in line with what you'd see on the Vive and Oculus," video game programmer Jeb Mayers told Polygon in a recent interview.
5. Remote Play and Share Play get a visual boost
Finally, the PS4 Pro offers a better experience for both Remote Play and Share Play. Remote Play lets you stream games on compatible devices if you're away from your PS4, while Share Play lets you record and send gameplay clips to your friends. Both features jump from a 720p resolution to 1080p thanks to the PS4 Pro. Share Play can also capture screenshots in 4K (up from 1080p on the regular PS4).
Convinced? You can pick up the PS4 Pro on Thursday, Nov. 10 for $399.99.