Pro-Trump Nazi graffiti was spray-painted on a window in Philadelphia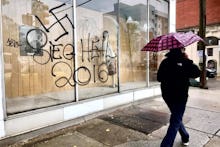 The sudden appearance of neo-Nazi graffiti on Wednesday morning, the day after Donald Trump was elected as the 45th president of the United States, is especially alarming considering the history of the date.
As the country reels in the wake of Trump's unprecedented victory, some Americans are elated while some are devastated — and afraid. In Philadelphia on Wednesday morning, anti-semitic graffiti showed up on the windows of an empty building. According to the Philly Voice, two swastikas were scrawled in black paint along with the message "Sieg Heil 2016." Sieg Heil is, of course, a Nazi victory salute. One of the swastikas appeared to make up the "T" in the word Trump.
The messages could be a neo-Nazi celebration of Trump's victory, or a tongue-in-cheek indictment of the U.S.'s new regime change — but, in what is perhaps the ultimate reminder of the dangers of unchecked nationalism, the graffiti comes on the anniversary of Kristallnacht — or "The Day of Broken Glass." 
Kristallnacht — a night of anti-semitic rioting, looting, violence and murder — unfolded across Germany and Austria on Nov. 9, 1938, exactly 78 years ago on Wednesday. It's widely believed to be a tipping point in the anti-Semitism and Nazi ideology that lead to the slaughter of millions people, many of whom were killed by their own government, in the Holocaust. 
Philadelphia police were responding to Wednesday's graffiti, the Philly Voice reported. Cosmo Baker, who saw the swastikas in person, told the Voice that "the messaging was very clear ... (whether) it was malicious intent or stupid kids who wanted to be provocative, it still has the same effect." 
Considering the alarming rise in online anti-semitism over the course of the election season, no matter the intent behind the neo-Nazi graffiti, it has many people — Jews and non-Jews alike — on edge.