Meet the three women of color who were just elected into the U.S. Senate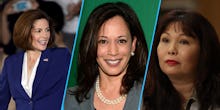 One silver lining of the election night on Tuesday is the amount of women of color in the U.S. Senate quadrupled with three big wins in California, Illinois and Nevada.
There is only one woman of color currently serving in the U.S. Senate, according to Vox, and her name is Mazie Hirono. In November 2012, Hirono made a milestone for becoming the first woman elected senator for Hawaii and the only Asian-American female senator. Hirono is Japanese-American.
That all changed on Tuesday when Rep. Tammy Duckworth (D-Ill.), California Attorney General Kamala Harris (D-CA), and former Nevada Attorney General Catherine Cortez Masto (D-NV) were elected to the U.S. Senate.
Here's what you need to know about these groundbreaking women:
Tammy Duckworth
On Tuesday, Duckworth became the first Asian-American woman elected as a U.S. Senator for Illinois. In 2013, Duckworth became the first disabled woman elected to the House of Representatives. Duckworth served in the House of Representatives for Illinois's 8th congressional district for three years. 
Prior to becoming a public official, she also worked at the Department of Veteran Affairs and served in the U.S. Army as a commissioned officers where she flew combat helicopters. The senator-elect lost two of her legs during a combat mission in the 2003 Iraq War and damaged her right arm. 
Duckworth was born in Thailand to an American father, who was a U.S. veteran, and a Thai-Chinese mother. While her father worked for the United Nations, Duckworth moved around the world and picked up Thai and Indonesian. 
Kamala Harris
On Tuesday, Harris is also the second African-American woman elected into the U.S. Senate, where she will represent the state of California. She is a woman of many firsts — the first female, first African-American, first Indian-American and first Asian-American attorney general of California. 
Harris was born in Oakland, California, to an Indian-American mother, who is a breast cancer specialist, and Jamaican-American father, a professor at Stanford University. Harris went to Howard University for her undergraduate degree and earned her Juris Doctorate at the University of California, Hastings College of Law.
Catherine Cortez Masto
When she takes her oath in early 2017, Masto will be the first Latina elected into the U.S. Senate. She served as the attorney general of Nevada for eight years between 2007 to 2015. 
Masto graduated from the University of Nevada, Reno, with a Bachelor's degree in business administration and the earned her Juris Doctor at Gonzaga University School of Law. She was born in Nevada to a Mexican-American father and Italian-American mother.