How do I move to Canada?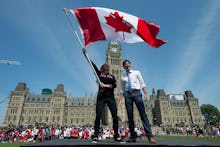 It's as telling a message about this election as any: As it became clear that Donald Trump would be the country's president-elect Tuesday night, there was so much traffic to the official website of the Canadian department of immigration that it crashed the site.
But is moving to Canada a viable option for Americans looking to escape four years of a Trump presidency? It turns out that joining our neighbors to the north may be a lot more difficult than some would like to imagine. 
How hard is it to move to Canada?
Online searches for "how can I move to Canada" have spiked periodically over the course of the election season, and, after Tuesday's results, some people may actually attempt to make the move. But, as friendly as Canadians may be, will they actually accept a flood of U.S. citizens coming for the border?
Rob Calabrese, who started the website Cape Breton if Donald Trump Wins to jokingly invite Americans to come to Canada, told the CBC on Wednesday that becoming a Canadian citizen is harder than his lighthearted site may make it seem. "It's not easy," Calabrese said.
According to the Canadian government's official website, there are multiple paths to immigration; the site allows people to check their eligibility online. But, as immigration lawyer Henry Chang told Forbes in 2012, "Don't just assume you will be able to cross the border because you don't like it in the U.S. anymore."
Despite the fact that Americans threaten to move to Canada roughly every four years, Chang explained people who think of permanent residency in Canada as a plan B may be surprised to find "that Canada won't want you."
As Forbes reported, most of the paths to permanent residency necessitate a job offer or sponsorship from an immediate family member, like a spouse. Without either of those, immigration to Canada could be challenging, no matter how much you hate or fear American politicians.
Of course, as Mic has previously reported, whenever people threaten to move to Canada, those threats smack of privilege. When it comes down to it, many of the people most likely to suffer under the coming Trump administration — if he fulfills his campaign promises — are people who aren't likely to have the resources for an international move.