Cooking a whole turkey at once is a mistake. Here's what to do instead this Thanksgiving.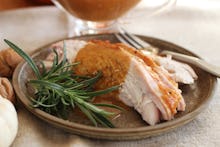 Step away from the turkey. There may be no holiday food more symbolic than an whole roasted Thanksgiving bird, but let's make this the Thanksgiving we deviate from the norm and do something a little more delicious: Turkey parts. 
Think about it — whole turkeys are difficult to store in your fridge and take up a ridiculous amount of space in your oven. Plus, it's exceedingly difficult to get all parts of a 15-pound (or larger!) bird to be cooked to perfection at the same time without drying out some of the bird. Go for wings, drumsticks, thighs and turkey breasts this holiday and your Thanksgiving will seriously improve. 
"I love cooking whole birds [but] the bigger they are the trickier it gets," Andrew Zimmern, host of the Travel Channel's Bizzare Foods, said in an email. "For home cooks who feel nervous, roasting, grilling, braising or frying the parts makes for a greater success." 
He recommends roasting a stuffed boneless breast and grilling the dark meat as a "a great way to cook smarter and offer your guests more variety of flavor and texture."
Zimmern, who you may equate with eating insects and less commonly consumed animal parts, said that turkey is cooked in pieces rather than as a whole bird all over the world. For example, turkey is very popular in Oaxaca, Mexico where "a nice turkey in mole is a superb dish." 
"Only in America do we roast this bird whole," Zimmern said. If you're going to cook your turkey whole, a rotisserie is the best way to do so, but if you don't have a rotisserie at home, try some of these turkey piece recipes. You'll see why the whole bird should become obscure. 
Boneless stuffed turkey breast
This turkey breast recipe offers all the crisp skin and savory stuffing of a Thanksgiving turkey but without the whole bird hassle. Get the recipe here.
Skillet turkey with bacon and white wine
Say goodbye to dry turkey with this decadent turkey thigh recipe that's deceivingly simple to make. Get the recipe here.
Turducken roulade
Turkey, chicken and duck breasts all unite in this celebratory swirl of poultry that's sure to ignite the holiday spirit. Plus, it looks so impressive! Get the recipe here.
Juicy roast turkey breast
One of the secrets to keeping the breast so juicy here is to keep the bone in. Oh, and butter. Get the recipe here.
Garlic herb bacon wrapped turkey
All of the flavors of Thanksgiving plus crispy bacon? You did it! You won Thanksgiving! Get the recipe here.
Smoked turkey legs
If theme park turkey legs are your jam, this recipe is for you! Brine and smoke those turkey legs to eat with your hands for a seriously fun Thanksgiving. Get the recipe here.
Slow cooker turkey taco chili
If ground turkey will do it for you, make an easy, hearty dish that gets your serving of turkey in without any of the hassle Get the recipe here.