Hillary Clinton didn't become the first woman president, but here's who could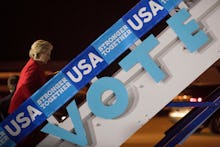 Hillary Clinton may not have won the presidency, but her career in politics is etched in history. Her decades of public service includes stints as First Lady, New York senator, Democratic presidential candidate, secretary of state and the first woman to win the nomination for president of the United States.  
"I know we have still not shattered that highest and hardest glass ceiling, but someday someone will — and hopefully sooner than we might think right now," Clinton said in her concession speech on Wednesday. "And to all the little girls who are watching this: Never doubt that you are valuable and powerful and deserving of every chance and opportunity in the world to pursue and achieve your own dreams."
It's all unlikely that Clinton, who turned 69 years old last month, would run again in 2020. But the idea of a female president is still within reach. Hillary Clinton wasn't the first woman to take aim for the White House and she certainly won't be the last.
Here are the trailblazing women who could shake up the 2020 race.
Elizabeth Warren
The Massachusetts senator was very visible on the Clinton campaign trail as one of her staunchest supporters. She repeatedly attacked Donald Trump, often in ways that Clinton could not.
She was seriously considered as both Clinton's running mate and a Democratic challenger early in the campaign.
Warren is 67 years old and would be 71 in 2020. President-elect Donald Trump is 70 years old, the oldest person to be elected to a first term as president on the United States. 
Michelle Obama
As the First Lady took to the campaign trail to stump for Clinton, her star power shined. The internet has been begging Michelle Obama to run for president and return to the White House in 2020.
And one of her signature lines from her powerful speech at the Democratic National Convention became a motto of the Clinton camp: "When they go low, we go high."
Kamala Harris
She's already broken several glass ceilings in California.
Kamala Harris has many firsts on her resume. She was the state's first female attorney general and on Tuesday night she became the second black woman to be elected to the U.S. Senate, replacing longtime California Sen. Barbara Boxer who has held the seat since 1993.
Carol Moseley Braun of Illinois was the first black female U.S. senator, serving from 1993 to 1999.
And Harris is promising a fight against the Trump administration.
Amy Klobuchar
The Minnesota senator was considered a possible running mate for Clinton and is often described in political circles as a "dark horse." She also helped bring a win for Clinton in her home state on Tuesday night, earning her 10 electoral college votes.
Klobuchar was a strong surrogate for Clinton on the campaign trail and is a cheerleader for electing more women to public office.
Carly Fiorina
Carly Fiorina made it onto the stage in the 2016 GOP primary, facing 15 other male candidates, including Donald Trump.
Trump insulted her repeatedly during the campaign, attacking her looks. 
"Look at that face! Would anyone vote for that?" Trump said in an interview with Rolling Stone in 2015. "Can you imagine that, the face of our next president."
Fiorina remained vocal throughout the general election, even demanding that Trump step down and let his running mate Indiana Gov. Mike Pence top the ticket just a month before Election Day.
But after Tuesday night's victory, she tweeted support for Trump and Pence.
Sarah Palin
Sarah Palin ran a failed campaign in 2008 as Arizona Sen. John McCain's vice presidential candidate. President-elect Donald Trump has said he would give her a spot in his administration.
Palin, who like Trump is also a reality TV star, endorsed her fellow Republican early on.
There are two other prominent women who could make a play for the White House in four years: Democratic New York Sen. Kirsten Gillibrand and Nikki Haley, the Republican governor of South Carolina.