'American Horror Story' season 6 finale makes 'Roanoke' and 'Asylum' connection in trailer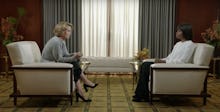 Roanoke meets Asylum in the season six finale of American Horror Story.
Each installment of the FX series tells a different story, but so far all the seasons have been somehow connected. Roanoke has already been tied to Murder House, Coven and Freak Show, and now it's making one last connection to a previous season by introducing Asylum character Lana Winters (Sarah Paulson).
Asylum, the show's second season, was set in 1964 and introduced Lana Winters, a journalist hoping to get details on Bloody Face, a serial killer committed to Briarcliff Asylum. Lana tried to go undercover by entering the mental institution under the guise of a writer who was researching their bakery. However, head nun Sister Jude (Jessica Lange) figured out her true intentions and blackmailed Lana's partner, Wendy (Clea DuVall), into having her committed for her homosexuality.
Lana was ultimately released and became a famous reporter by exposing the mistreatment of patients at the institution. The promo video for the American Horror Story: Roanoke finale re-introduces Lana as she interviews Lee Harris (Adina Porter), the sole survivor from Return to Roanoke: Three Days in Hell.
Scenes from the season six finale promo video show Lee in court, presumably on trial for the murder of Monet (Angela Bassett) and the three teens from the My Roanoke Nightmare fan site. Since Lee's not behind bars when she talks to Lana, it appears as if she may have avoided jail time for her crimes — after all, she was possessed by Scathach. But does Lana Winters believe her story? And is there still more to be told? 
Another big question heading into the finale is whether Lana's interview with Lee takes place before or after she killed her son, Johnny (Dylan McDermott). The murder took place in present day in the final moments of the Asylum finale. Johnny — the son of the real Bloody Face whom Lana gave up for adoption as a baby — approached her with a gun after she had concluded filming an interview. At first it appeared as if he wanted to kill her, but she managed to talk him out of it. He was weeping on her, seemingly regretting all the crimes he committed while trying to emulate his father, when she turned the tables and killed him with his own gun. Shouldn't she be in jail? Or did she claim self defense?
The American Horror Story: Roanoke finale will air on FX on Wednesday, Nov. 16 at 10 p.m. Eastern.