Was 'South Park' predicting a Hillary Clinton win? A scrapped episode title suggests so.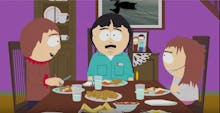 One of the subtler effects of Donald Trump's unexpected victory to be the next president of the United States was the ways in which some TV shows had to quickly adjust their narratives. This was seen almost immediately in late night coverage airing live on Tuesday, in which The Late Show with Stephen Colbert and The Daily Show with Trevor Noah assumed an unanticipated, sobering tone after both had clearly prepared for a Hillary Clinton win. 
This appears to be the case for Comedy Central's South Park, which is poised to work another last-minute rewrite for Wednesday's episode. The show's website had previously teased an episode titled "The Very First Gentleman," an obvious nod to Bill Clinton's role in the White House under a presumptive Clinton victory (plus, given South Park's tone, surely a dig at his lecherous past). 
But with a Trump win, get ready instead to watch "Oh, Jeez." 
They've shared a 29-second clip of the episode, in which a tense Marsh family dinner turns sour at the prospect of a Trump presidency: "We've learned that women can be anything," Randy says. "Except for president."  
The synopsis for the new episode reads: 
PC Principal tries one more time to make peace between the boys and the girls. Meanwhile Gerald comes face-to-face with the Troll Hunter.
South Park creators Matt Stone and Trey Parker have famously had to work last-minute episodes in the wake of real-life events numerous times before. Going back to President Barack Obama's victory in 2008, they had prepared for an Obama win — which, of course, happened — but they had a contingency plan to fall back on in the event that John McCain eked out a win. 
That's just part of the show's popularity: They typically have less than a week to produce an episode of a show, as evidenced in a behind-the-scenes documentary on the series, titled 6 Days to Air. 
While it's unclear just how down to the wire Wednesday's episode will be, fans on Twitter are anxiously awaiting how the show will tackle one of the most shocking events in modern American history.