Who will Donald Trump pick for his cabinet?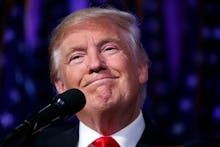 Donald Trump's historic presidential election win this week caught almost everyone by surprise. The pollsters were wrong, the pundits were way off, and the only people who seemed to predict the correct outcome were dismissed as being overly optimistic.
Yet as the results came trickling in on Tuesday night, it became clear that Trump would become the United States' next commander-in-chief. On Wednesday morning, while some were celebrating the victory and others fretting its outcome, people began to wonder: What might a President Trump administration actually look like?
Trump has at his disposal a large roster of candidates to fill his cabinet. He has already mentioned some ideas for whom he may select for key posts, and anonymous sources and other prominent voices in the conservative movement have thrown out additional names as well.
Rudy Giuliani
For attorney general, Trump's campaign has already made headlines suggesting the role could be given to former New York City Mayor Rudy Giuliani, who has been one of Trump's biggest supporters throughout this election.
Giuliani doesn't come to the role unprepared: In addition to his experience as mayor of the Big Apple, he also served as United States attorney for the southern district of New York. Like Trump, Giuliani was once a registered Democrat; however, he switched his allegiances long ago as an independent, and he has been a Republican since the 1980s.
Newt Gingrich
The conservative leader and proponent of the Contract with America in the 1994 midterm elections, Newt Gingrich has been an outspoken critic of all-things-liberal ever since. As speaker of the House of Representatives from 1995 to 1999, and second in line of succession to the presidency (behind the vice president), the Georgia Republican has both the resume and experience to play a huge role in the Trump administration.
Gingrich was on the shortlist of contenders to be named the vice presidential nominee during the campaign. Now, he's being heavily considered for another important role: secretary of state. As the nation's top diplomat, Gingrich would be given the responsibility of forging good relationships with global leaders. He'd also be filling a role that Hillary Clinton served in during the early years of the Obama administration.
Ben Carson
A former presidential candidate and an outspoken critic of President Barack Obama's signature health care policy, Dr. Ben Carson is being considered for one of two possible roles in the Trump administration due to his medical background: secretary of the Department of Health and Human Services, or surgeon general.
According to its official government website, the Surgeon General "provides Americans with the best scientific information available on how to improve their health and reduce the risk of illness and injury." He or she heads the U.S. Public Health Service Commissioned Corps, which is tasked with promoting the overall health of the country.
Carson has the background to serve in either role, and claims that President Obama previously offered him the latter. As a former surgeon, Carson gained notoriety for being the first to successfully separate conjoined twins at the head (although the story for the twins ended in tragedy years later). But Carson is not without controversy — his views on the transgender community, for example, demonstrate a restrictive approach to their lives. When asked if transgender people should be able to use the public bathrooms of their choice, Carson said, "I'm not sure anybody should have extra rights when it comes to redefining everything for everybody else and imposing your view on everybody else."
Reince Priebus
The leader of the Republican Party itself, RNC Chairman Reince Priebus is largely credited with helping Donald Trump temper his message to the American people (although how successful he was in doing so is up for debate).
"Trump legit listens to him," one anonymous source said of Priebus.
Keeping Donald Trump in line during his presidency will be a monumental task. That's why many are viewing Priebus as a favorite to serve as Chief of Staff for the president-elect. In that role, Priebus would meet with Trump daily, offering him advice and organizing his daily schedule, including who gets to meet with him and when. It doesn't hurt also that Priebus is from Wisconsin — and a good friend to fellow Badger and current Speaker of the House Paul Ryan, who Trump has had trouble working with in the past.
Defense Secretary and Homeland Security
There are many choices to choose from when it comes to the Defense Department. Alabama Sen. Jeff Sessions, an early supporter of Donald Trump's campaign, is seen by many as the favorite to serve in the role. Stephen Hadley, a former national security advisor to George W. Bush, has also been mentioned, as has retired Lt. Gen. Michael Flynn.
On Homeland Security, Trump has many options as well. Rudy Giuliani, if he doesn't serve as Attorney General, has been cited by Trump himself during his campaign as a top frontrunner to this position, given his experiences with the terrorist attacks of Sept. 11, 2001. Another prospect, Sheriff David Clarke of Milwaukee, has been mentioned. Clarke, an African-American who runs as Democrat in Milwaukee, is conservative and has been critical of the Black Lives Matter movement. He is also a leader in promoting Second Amendment gun rights. And New Jersey Gov. Chris Christie has also been suggested, though his controversial involvement in the "Bridgegate" scandal may give Trump some pause.
Sarah Palin
Finally, Sarah Palin's name has been brought up as a possibility to serve as Secretary of the Interior. This would place Palin in charge of the department that's tasked with managing the nation's natural resources and federal wildlife areas. One has to wonder if this is one of the most controversial possibilities considered — during her 2008 campaign for vice president, the mother of the Tea Party movement was often found saying, "Drill, baby, drill!"
Trump certainly has a lot of choices to make when it comes to who he will surround himself with as president. The names listed above are likely to be selected to serve in some capacity or another. 
They are also, however, what is expected of Trump to choose from. One thing we ought to know by now from Trump is that we should expect the unexpected. Some of the names above may be tapped to serve in Trump's cabinet; other names, perhaps from way out in left field, may be considered as well.