Food Network shows are leaving Netflix, because nothing good lasts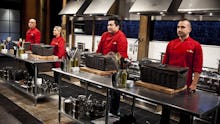 As if the world weren't dark enough already, here's an extra bit of bad news: All the Food Network shows are leaving Netflix, along with HGTV, DIY Network and the Discovery Channel's series.
The reason, as reported by /Film, is that Scripps, the company that owns and operates these networks, is letting its deal with Netflix from 2014 lapse. Since Netflix shows all of its programs without advertising, thus depriving Scripps of any potential ad revenue, Scripps CEO Kenneth Lowe reportedly said on an earnings call that the company was losing money.
The deal is over at the end of 2016, so there are a few precious weeks left to cram in as much Chopped, Guy's Grocery Games and Cutthroat Kitchen as one person can.
Though the shows leaving Netflix are hardly your grandmother's cooking shows — no Sandra Lee or Ina Garten here — it's still a shame that their departure coincides with one of the most uncertain periods in American history. Cooking shows can serve as a kind of comfort food for the soul; a light lift in a crowd of heavy dramas and increasingly dark comedies.
In other words, after a hard day, sometimes one just wants to come home and watch chefs have to make desserts out of fruit leather and pistachios on Chopped. Unfortunately, for the cable-less out there, starting in 2017 it'll be just a little bit harder to find that comfort.