New Balance faces backlash after throwing its support behind President-elect Donald Trump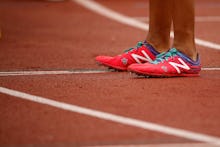 Sometimes, timing is everything. 
On Wednesday, a day full of anxiety, grief and panic for millions of Americans, Matthew LeBretton, vice president of public affairs for the sneaker brand New Balance, was quoted giving a statement that sounded an awful lot like him throwing his support behind President-elect Donald Trump.
"The Obama admin turned a deaf ear to us & frankly w/ Pres-elect Trump we feel things are going to move in the right direction," Matt LeBretton told a reporter with the Wall Street Journal.
In a new interview with BuzzFeed, LeBretton walks back on his statement, stating that New Balance isn't supportive of Trump as a president as a whole, but is hopeful for his trade policies. 
"The statement [quoted by Sarah Germano] is correct in the context of trade, not talking about large geo-political anything, but in the context of the Trans-Pacific Partnership agreement," LeBretton told BuzzFeed. "It's inaccurate. Everything I've said is in the context of trade."
So what LeBretton was trying to say is that New Balance was unhappy with President Barack Obama specifically because of his stance on the Trans-Pacific Partnership agreement, which NB thinks would hurt business because it is a U.S.-based company. Therefore, NB is hopeful that Trump could be on their side when it comes to this issue. 
However, one day after the election, emotions have been raw and fans of New Balance have been quick to show their disgust over even the idea that the brand could be supportive of Trump in any capacity. 
On Twitter, there are now plenty of images of people throwing their New Balance sneakers right into the trashcan, or even setting them on fire. 
Some are calling for a boycott of New Balance entirely. 
So if New Balance can get this kind of response after issuing what many perceived as a pro-Trump statement, it's hard to imagine that Trump's fashion line or Trump's daughter Ivanka's fashion line is going to fare too well in the next few days either. Even before the election, people called for a boycott of Ivanka Trump's fashion line. 
In response to the outrage, New Balance issued a statement of sorts on Thursday tellings its customers that it meant no disrespect by issuing a kinda-sorta positive statement about Trump. 
"We believe in humanity," the statement read. "From the people who make our shoes to the people who wear them, we believe in acting with the utmost integrity and we welcome all walks of life." 
"New Balance and our thousands of employees around the world constantly strive to better our local communities. We always have and we always will." 
November 10, 2016, 2:21 p.m.: This story has been updated to include New Balance's statement..