If only people under 40 had voted, here's how the Electoral College would have looked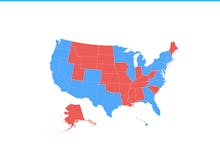 The voters that sent Donald Trump to the White House are now well documented. Trump won majorities among white voters, including white women, middle aged and older voters, Americans who make $50,000 or more and Independent voters. 
But among millennials, exit polls show Hillary Clinton won by a large margin. (Exit polls did not specifically break down the millennial generation, defined as people between 21 and 36.) 
In the 28 states where exit polls were conducted, which included all the swing states, Clinton won 56% of voters 18-24, 53% of voters 25-29 and 51% of voters 30-30. 
With the same turnout in those states from voters under 40, Clinton would have won 357 electoral votes. She only would have lost seven of the 28 states that were polled. Counting ballots from voters under 40 alone, Clinton would have won Arizona, Florida, Michigan, North Carolina, Pennsylvania and Wisconsin — all of which she lost on Tuesday. 
In regularly Republican states Trump won, like Georgia, young voters split for Clinton at a wider margin than they did in Rustbelt States, like Wisconsin. If such trends hold in future presidential elections, the generation larger than the Baby Boomers will be able to swing states like Georgia, along with demographic shifts, in favor of the Democrats. 
If only voters under 40 had cast ballots, Hillary Clinton would have won at least 403 electoral votes.   
If Clinton won the states in the map above, along with the states she won on Tuesday where exit polls were not conducted, she would have reached more than 400 electoral votes. And because we don't have exit poll data from these states, it's conceivable some of these red states could have flipped to Clinton among voters under 40.
There were some trends among younger voters that were positive for Republicans. In Iowa, a battleground, and Maine, which went for Clinton, younger voters trended toward Trump. In Maine, older voters won the state for Clinton. 
Before the election, a SurveyMonkey poll of millennials also projected Clinton would win the vast majority of younger voters. Exit polls showed her sweep among young voters was not as great as expected. And narrower margins between Trump and Clinton among younger voters in places like Wisconsin and Michigan contributed to her losses in those states. 
Gut check for voters under 40: The maps above are nowhere close to what played out Tuesday night.