'Game of Thrones' author George R.R. Martin ominously compares Trump win to HBO series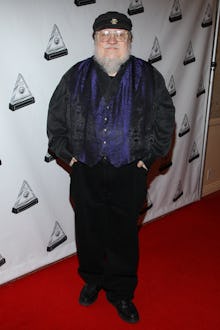 Game of Thrones isn't exactly a series that instills hope — pretty much everyone you care about dies horribly — so it's only fitting that author George R.R. Martin has a foreboding, Westerosi view after Donald Trump's unexpected presidential win. In a new post on his personal blog Wednesday morning, titled "President Pussygrabber," Martin lamented the Trump victory with a succinct message of despair. 
"There are really no words for how I feel this morning," he opens. "America has spoken. I really thought we were better than this. Guess not." 
Martin had previously campaigned for Hillary Clinton in New Mexico, where he resides, urging people to vote against a candidate who's spectacularly unfit for office. 
What's more, Trump's presidency should bring concerns for fans of Game of Thrones who hope Martin will wrap up the final two books of the fantasy series in the near future. Prior to the election, Martin admitted in a separate post that the prospect of Trump winning left him feeling extremely anxious. 
"The election still has me in a state of high anxiety," Martin wrote on Sunday. "I am not sleeping well, and I think I check FiveThirtyEight about three dozen times a day, hoping for some good news. Tuesday cannot come fast enough for me. I think I speak for a lot of Americans when I say that I desperately want this thing to be over. It has been SO ugly. Come Tuesday night, I will either be relieved or suicidal." 
His motivation to continue the series — one with fantastical otherworldly politics that feel closer to real life than ever before — remains to be seen. But he ended his latest blog post on an ominous note after Trump's win, echoing the words of House Stark. 
"Winter is coming. I told you so."