Russia says it was in contact with Donald Trump's campaign — exposing a big Trump lie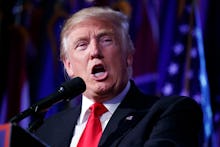 President-elect Donald Trump was adamant throughout his campaign that he had no connections with Russia.
But a Russian diplomat torched Trump's claim on Thursday, telling the Washington Post that top Russian officials were in contact with members of Trump's campaign orbit.
"I cannot say that all of them but quite a few have been staying in touch with Russian representatives," Russia's Deputy Foreign Minister Sergei Ryabkov told the Post.
Ryabkov's comments could haunt Trump and his campaign, which repeatedly said they had no ties to the country, which is hostile toward the West.
"This was just put out there by Clinton because they figure it's a good soundbite," Trump told a local CBS affiliate in Miami in July. "The fact is she's the one involved with Russia because they have Uranium because of her when she was secretary of state. I mean that was a big, big deal, so they just came up with this concept, so okay."
The question now is whether the FBI will once again investigate the campaign's ties to and communications with the country.
The FBI has said they investigated Trump and his campaign's ties to Russia over the summer, but found no link, according to the New York Times.