Sign at anti-Trump rally goes viral: Put avocado on racism so white people care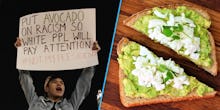 When will white Americans care about systemic racism? One activist suggests avocados will make people wake up to the state of inequality in the U.S. 
At an anti-Trump rally in Chicago on Wednesday night, Phillipe Thao held a sign that read: "Put avocado on racism so white ppl will pay attention. #NOTMYPRESIDENT." 
"As a child of war refugees I've been made to feel like I owe America my patriotism, but now it's different. He's not my president," Thao wrote on Instagram on Wednesday. Thao is a 20-year-old Hmong-American who identifies as a gay and queer man, he said in an email. His parents both moved from Laos to refugee camps in Thailand during the Vietnam War, before making their way to the U.S.
Since Wednesday's protest, a Tweet featuring a photo of Thao's sign has gone viral, getting retweeted over 12,000 times as of Thursday afternoon. 
The sign is a food-related echo of a sentiment many have during the wake of the presidential election. Trump's path to the White House was paved by support from white people. Approximately 53% of white female voters voted for our president-elect despite his sexist and vulgar comments, and despite the fact that he questioned the citizenship of President Barack Obama, America's first black president. 
"I always like to crack jokes during hard times, and this is definitely a hard and dark era in our history," Thao said in an email. "I wanted people to laugh at it, then realize themselves what I was really telling them to do: to stop ignoring racism." 
Thao said even people who claim they aren't racist need to understand that they still "put a racist man into office." 
People at the rally loved the sign, he said. "Many asked to take photos, and protesters smiled and gave me a thumbs up in the crowd." 
The avocado sign got mixed reactions online. Some on Twitter said the sign was racist towards white people. Others thought it was hilarious and said they would have made a sign referencing white people's love of pumpkin spice or kale. 
Thao isn't surprised by the negative Twitter reactions — those upset by it didn't understand his intent or his message, he said. "You can be biased/unbiased toward white people, but you can't be racist toward them because they are the dominant majority in America perpetuating white supremacy," Thao said. 
Avocados for social justice
Thao invoked avocados as a social critique, he said. "The trend with avocado toast and Instagram food photos with avocados and going to brunch in gentrified neighborhoods for avocado toast is typically associated with white people — it's a newly generated stereotype." 
"I think the sign is clever and makes a good point," Kara Doszkewycz, another person who attended the Chicago anti-Trump rally, said in an email. "White people have the privilege to acknowledge and consider only the parts of other cultures that they choose to, or find palatable — in this case, literally." She pointed to hip-hop and Mexican food as examples, and said white people choose to ignore the more difficult aspects of racism and injustice. 
"It is uncomfortable for us, and we would rather just enjoy avocado toasts and listen to Kendrick Lamar, while completely ignoring the messages in his music," she said. 
Both Thao and Doszkewycz said they hope white people use their privilege to help fight for marginalized people, and Doszkewycz said she is working on recognizing and correcting her own implicit bias. 
"We all have a long way to go, but I think that starting is the hardest part," Doszkewycz said. " I see many people in my community talking about issues and taking steps that I haven't seen before."