Nadia Aboulhosn on how we can get a plus-size model on that Victoria's Secret runway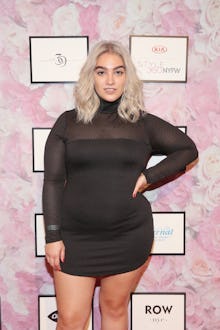 In just a matter of weeks, the Victoria's Secret Fashion Show will be broadcast on millions of televisions across America. And if history repeats itself, there will be no plus-size or curvy women on that runway. 
According to model Nadia Aboulhosn, who's not technically plus size but is considered a plus-size model, it'd simply be foolish to expect Victoria's Secret to turn a new leaf right now.
"I think they have a brand image for themselves," Aboulhosn said in an interview. "That's just what they've done for years. I can't expect everyone to turn a new leaf as quickly as I'd like them to. I love VS, I wear them all the time. I really think with time, they will. Maybe that's me thinking positive or maybe that's because I never give up on trying to break down doors."
Despite not having much hope in the brand right now, Aboulhosn is still insistent that there is something we can do, as a society, to help propel a plus-size model or really any model who's larger than a size 6 onto that famed runway. 
"I think it's just going to have to be pushing down doors and really being persistent," Aboulhosn said. "The more we show and demand that women of all sizes and ethnicities are beautiful, then they'll come around." 
For the past five years, Aboulhosn has been a powerful force of change in the plus-size and body-positive world, running a fashion and lifestyle blog focused on women who don't fit the model norm. In March, she made history as the first full-figured woman on the cover of Women's Running. Currently, she's busy modeling for companies like H&M and Khloé Kardashian's Good American, and has been called on by Addition Elle, for the second time, to design a collection of her own, which is full of trendy pieces like lace-up jeans, mesh dresses and denim jackets.  
"I wanted to bring form fitted body hugging pieces that didn't shy away from showing yourself off," Aboulhosn said. "I wanted to bring something to the table that wasn't already available in plus clothing." 
And what she brought to the table was a trendy collection of lace-up jeans, mesh dresses, denim jackets and belly-baring halter tops. 
With her second collection, Aboulhosn joins the many other plus-size models out there who have been called on by companies to design collections of their own. Think GabiFresh for Swimsuitsforall or Ashley Graham for Addition Elle too. Aboulhosn herself has designed a collection for BooHoo as well. 
"I think we have very specific audiences who looks up to us and can relate to us, so brands reach out through influencers to help our followers see their visions also," Aboulhosn said. "Brands know their audiences for the most part, but a lot of brands wants to reach out to a demographic they haven't already." 
Particularly interesting about Aboulhosn designing plus-size clothing is the fact that she herself isn't technically plus size, but around a size 8. And yet, she models and is called on to design plus-size clothing. This confusion, she says, can be blamed on the outdated ideas fashion still has when it comes to categorizing women by sizes. Since she's not straight-sized, she's immediately looped into plus-size modeling. 
"I think I'm considered a plus-size model because there really isn't an in-between size category. Fashion and society has for the most part only been one way," Aboulhosn said. "One definition of beauty. It wasn't until recently that it started changing so brands and magazines and society don't really know how to go about things so they use labels and throw people in to categories for them to comprehend it." 
"I definitely think some brands are hesitant of me," Aboulhosn continued. "I think it's my job to keep opening people's minds up to things they haven't done before and pushing their comfort zones." 
What's also setting Aboulhosn apart is that she's a plus-size model of color. Though there are women of color in the plus industry — like Sabina Karlsson and Denise Bidot — Aboulhosn's existence and success (as well as Karlsson's and Bidot's) is pushing the mainstream fashion industry out of its thin and white comfort zone. 
And really, there's no better time to do that than the the present, is there?