This #mannequinchallenge is a sobering yet powerful nod to recent acts of police violence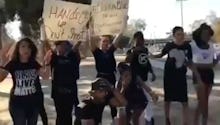 The Mannequin Challenge — a social media phenomenon where groups of people pose motionless and video-record it — took a hard left into politics this week: first, on the campaign jet for Hillary Clinton's failed presidential campaign Tuesday. And again on Wednesday, in this sobering nod to recent acts of police violence against black people, shared on YouTube and by the Instagram account @blackinbluefilm_.
The video is part of the marketing campaign for Black in Blue, a yet to be produced feature film about a black police officer coping with the fallout from a police shooting. It's set in Philadelphia. The filmmakers — producers Todd Anthony, Kevalena Everett and Shirley Ison, and writer-director Fred Thomas Jr. — are currently raising money for their production via Indiegogo.
The footage contains references to recent acts of police violence. One is the shooting death in Falcon Heights, Minnesota, of Philando Castile in July. The aftermath of Castile's death was live streamed on Facebook by his girlfriend, Lavish Reynolds, and audio of her speaking in that video is overlaid here.
There's also a visual reference to Trayvon Martin, who was shot and killed at age 17 by a neighborhood watchman in Sanford, Florida, in 2012. Martin was wearing a hoodie, carrying iced tea and Skittles when he was killed, as is the boy modeled here in his likeness.
Though its aim is ultimately promotional, the Black in Blue mannequin challenge is also an intriguing example of commentary on police violence adapting to new media. The mannequin challenge has been around less than two weeks. This is what people mean when they say the internet is fast.