Who controls the Senate? Here's where Congress stands after the election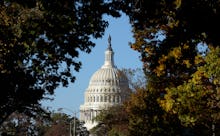 The Republican party continues to have majority hold over the Senate — one of the two chambers of Congress in the United States government — after Tuesday's election. A Republican majority means Mitch McConnell (R-Ky) continues to be the majority leader of the congressional branch.
Each of the 50 states has two seats in the Senate, and senators serve six-year terms. The re-election of senators is staggered such that roughly a third of the seats are up for election every two years. In collaboration with members of the House of Representatives, the second chamber of Congress, senators author and vote on laws that impact the day-to-day lives of Americans.
Currently, the party-based breakdown of senators is 51 Republicans, 48 Democrats, and one Independent. Democrats lost the Senate in 2014 and in order to procure majority, the party needed to gain five seats. The Democratic party only gained two seats in the recent election — Rep. Tammy Duckworth and former state Attorney General Catherine Cortez Masto beat their GOP competition in Illinois and Nevada.
The Republican party has control over Congress, as a whole, and the party maintained its majority hold of the House as well, with 239 Republican and 193 Democrat members. Unlike the Senate, every seat in the House — the total number of representatives varies from state to state based on population — are up for election every two years.
The next election for senators and representatives will be the 2018 midterm elections, which will mark the halfway point of President-elect Donald Trump's term.