Boycott Alert: Here are companies and executives that supported Donald Trump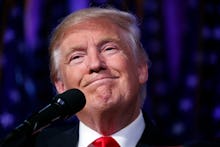 If the surprising election win by President-elect Donald Trump left you feeling dispirited, you may be looking for a way to take action.
One way you could do so is donating money or time to causes you believe stand against Trump's politics. Conversely, you could hold back your money — by boycotting companies and/or corporate executives that stand against your beliefs.
As of mid-September, no CEO of a Fortune 100 company supported Trump by donating to his campaign.
But in other ways, and in the time since, a few big companies have shown support for the president-elect — directly or indirectly.
Here are five examples.
New Balance
The day after the election, Matthew LeBretton, vice president of public affairs for the sneaker brand New Balance, told a Wall Street Journal reporter: "The Obama administration turned a deaf ear to us and frankly with President-elect Donald Trump, we feel things are going to move in the right direction."
After that message went out, angry people on Twitter shared photos showing them destroying or trashing their New Balance shoes.
In response, New Balance issued a statement to Sole Collector clarifying its position.
"As the only major company that still makes athletic shoes in the United States, New Balance has a unique perspective on trade and trade policy in that we want to make more shoes in the United States, not less," the statement reads. "New Balance publicly supported the trade positions of Hillary Clinton, Bernie Sanders and Donald Trump prior to Election Day that focused on American manufacturing job creation and we continue to support them today."
Yuengling
On a final campaign swing through Pennsylvania at the end of October, Trump's son Eric stopped by the Yuengling Brewery in Schuylkill County, Pennsylvania. 
Richard "Dick" Yuengling Jr., who is 73 and the fifth-generation owner of the nation's oldest beer company, gave him a tour.
"Our guys are behind your father," Yuengling said, the Reading Eagle reported. "We need him in there."
Eric Trump promised a Trump presidency would help businesses like Yuengling, a $550 million company with breweries in Pottsville and East Norwegian Township in Pennsylvania and Tampa, Florida.
"Maybe your dad will build a hotel in Pottsville, or serve Yuengling in his hotels," Yuengling said, jokingly, according to the Eagle.
Following the visit, there were calls on Twitter for a consumer boycott of the beermaker.
Home Depot
Kenneth Langone, one of the co-founders of Home Depot, has been publicly supporting Trump since May. 
After supporting GOP presidential candidates New Jersey Gov. Chris Christie and then Ohio Gov. John Kasich, Langone settled on Trump.
"And you want to know something?" Langone said on CNBC's "Closing Bell" in May. "I think he'll do a hell of a good job. At least I'm hoping."
Langone even doubled down after Trump bragged about sexual assault in the bus video leaked in October.
When asked for comment about the Langone's support, Stephen Holmes, the director of corporate communications for Home Depot said: "The Home Depot nor our CEO endorse Presidential candidates. Ken is a co-founder, and was once on our board of directors, but he retired from the board several years ago and is not speaking on behalf of the company."
Facebook
Deactivating your Facebook account might be really hard — scientific research suggests the social media site really is addictive.
But in a big way, Facebook played a role in this presidential election.
One way is the unchecked proliferation of shared fake news stories on the site that were partly responsible for Trump's rise.
Another? One of the company's board members and also one of the co-founders of PayPal, Peter Thiel, spoke in support of Trump at the Republican Convention in July.
Thiel began publicly supporting Trump in May — and pledged more than $1 million to Trump's campaign in October.
When he spoke at the National Press Club in October, Thiel said what Trump represents "isn't crazy and it's not going away."
Thiel said he doesn't love everything about Trump does support Trump's plan to reduce waste in government, which he says is throwing away trillions of dollars of taxpayer money.
In a post-election interview with the New York Times, Thiel said he is currently in Trump's inner circle as an informal tech adviser.
Hobby Lobby
Despite his conservative background, Hobby Lobby CEO David Green did not endorse Trump in the primaries.
As you may recall, in 2014 the Supreme Court ruled that companies with religious owners — like Green — can't be compelled to pay for insurance coverage for women's contraception.
It's been called the "Hobby Lobby decision," because his was the company that brought it.
Green even talked down Trump during the primaries, telling Politico that Trump "scares me to death."
He added he would like the president to be someone "my kids, my grandkids and my great-grandkids can emulate."
Then, in October, Green apparently changed his mind. He threw his support behind Trump because of a hope for conservative judges on the Supreme Court, he wrote in opinion piece for USA Today.
"Fortunately, the Supreme Court issued a 5-4 ruling in favor of Hobby Lobby in 2014, but it's frightening to think that we — and all Americans — were just one judge away from losing our religious freedom," he wrote.
Requests for comment sent to New Balance, Yuengling and Facebook were not returned by press time. Hobby Lobby declined to comment.