Election 2020: 6 potential Democratic presidential candidates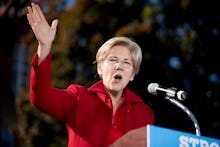 The nation is still reeling in the wake of Donald Trump's shocking victory over Hillary Clinton in the 2016 presidential election. It has left a divided country wondering what's next for the Democratic party, which was slated to win the White House a third consecutive term for the first and only time since Franklin D. Roosevelt. For those who find Trump's triumph unfathomable, the race to find a worthy liberal to challenge him in 2020 begins now. 
Hillary Clinton's career in politics may very well be over. It's hard to imagine her running for the presidency again. Bernie Sanders and Joe Biden will likely have hung up their hats as well — they'll be 79 and 77, respectively, when 2020 rolls around. But from the ashes of a broken Democratic National Committee, a new star of the party could arise. Here's who could potentially take down Trump in the next election.
Tim Kaine
As Hillary Clinton's vice presidential pick, Tim Kaine would be a logical choice to challenge for the presidency. He's relatively well-liked despite a questionable debate performance and would broadly appeal to the ever-crucial Latino vote thanks to his fluency in Spanish and volunteer work in Honduras. 
Andrew Cuomo 
New York dominated this year's election cycle with Trump and Clinton both living in the state. The state could provide a candidate once again in the form of its governor, Andrew Cuomo, who has a solid progressive record and well-documented political background on the heels of his father, Mario Cuomo, who also served as New York's governor for three terms. Whether or not the current governor could navigate through his aides' corruption scandals is a looming question, however. 
Elizabeth Warren
In the wake of Clinton's defeat, many far-left leaning liberals have blamed the DNC's sabotage of Bernie Sanders — who polls showed could have defeated Trump. In an effort to appeal to those voters and the overall progressive agenda of Democrats, Elizabeth Warren could make a fine nominee choice. She most resembles Sanders thanks to her continuous anti-Wall Street crusade and popularity on social media. Most obviously, she's a woman, and if you take this year's popular vote into consideration, the country is yearning for one in the White House. 
Cory Booker
The New Jersey senator and former Newark mayor made a splash at the Democratic National Convention with an impassioned speech that was met with acclaim. It drew comparisons to Barack Obama's speech at the 2004 convention, which further elevated the then-senator's status in the Democratic party and heightened his presidential conversation. Could Booker follow the same path? He's considered a rising star of the Democrats but has received criticism from his own party.
Amy Klobuchar
Though she's not as well-known as some on this list, make no mistake — Amy Klobuchar could be a force in the future. The Minnesota senator has some of the highest approval ratings in the country, and the New York Times wrote in 2008 that there was a possibility she could become the first female commander in chief. Best of all, she wouldn't necessarily be pushed into it — she's already given thought to running.
Michelle Obama
Let's just get this out of the way: First lady Michelle Obama is beloved by the Democratic party and would probably win the nomination in a landslide. Whether or not she could take on Trump or another experienced Republican candidate remains in question, however. As of now, she has never run for public office, but she is a trained lawyer — a common launching pad into politics — and has been involved in government by her husband's side for 20 years now. She's a polished campaigner and arguably just as good of an orator as the president. Maybe it's her, and not Hillary's, destiny to ascend from first lady to the first female president of the United States.