10 beauty bloggers who are owning the natural hair space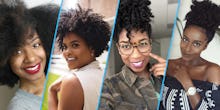 In the late 2000s, African-American women started a quiet movement on message boards, sparked by their grievances with chemically processed hair.
Twitter and Instagram weren't around at the time, and Facebook was too public of a forum to talk about niche topics like making the "big chop" (cutting all your processed hair off) or working with your T.W.A. (teeny weeny afro). So when YouTube launched in 2005, small channels began popping up where women of color documented their transitional hair process. They also commented, asked questions and related to one another about their hair journeys — creating a sacred community, united under the desire to wear their hair as it naturally grows.
"I started doing natural hair videos in 2008 on a whim," Alexis Felder, founder of the blog LexiWithTheCurls, said in an interview. "At the time, NaturallyCurly.com's forums were amazing for me. I would chat with everyone in there and ask questions and provide tips. CurlyNikki was on the forums as well. I would contribute in the 3c section and 4a section. I wasn't trained at all, so it was just based on my experiences."
Nearly a decade later, the natural hair space is saturated with brown girls from around the globe creating content based around hair and beauty. But the most famous, most recognized, most respected women who paved the way for the movement — they're cultural icons in the natural hair world. Essentially, they started at the right time and were consistent. From their hobbies came full-on businesses, with a good number of them transitioning into brand development, video producing and consultation work.
This Boston native is one of the heavy-hitters of the natural hair space, flying around the country for speaking appearances (Essence Music Fest, The Real, etc.) and appearing in features in magazines. The proud wife and mother, who started vlogging in 2009, has also served as a Shea Moisture ambassador. 
She gained notoriety last summer when she live-tweeted an incident in which a white couple touched her hair — without permission — while in line at a convenience booth in New Orleans International Airport. "That was so rude," she tweeted. "It was the first time someone's touched my hair and made me feel like an exhibit or animal."
Having made her first video five years ago as an Independent Living Specialist for a nonprofit organization called Southern Christian Services, Chime Edwards has evolved from a natural hair aficionado to an advocate for holistic living. 
She'll be the first to note that healthy hair growth comes from what's put inside the body. "What you consume actually contributes to hair growth," she said in a video that has 1.1 millions views. "Eating a lot of foods that are high in protein like fish, eggs, nuts and beans can make a huge difference in the quality of your hair and can speed up hair growth." In addition to her YouTube videos, Chime is a model who's appeared in Nikki Walton's Better Than Good Hair book.
This busy naturalista has over 14 million views on her YouTube page's informative hair and makeup videos. Breanna's most popular posts garner hundreds of thousands of views for their ability to simplify hairstyling techniques in under 10 minutes. 
Hailing from Florida, the New York City transplant was studying communications at Pace University and interning at O, the Oprah Magazine when she started making videos in her bedroom. Fast-forward three years and the hair guru, who can do advanced styles (sewn-ins, semi-permanent dye), now shoots professionally edited content for herself and sponsored brands.
Jessica started creating videos in 2009, four years after YouTube launched. At the time, she was stationed in Germany as a military wife and was sick of buying relaxers to maintain her hair. Instead, her husband did her big chop, and then she sought the help of natural hair blogs for guidance on her T.W.A. When she couldn't find a good contingent of videos on the transition process, she started her own channel. 
Seven years later, the 30-year-old has over 300,000 subscribers on Youtube. She's also made her family of four semi-famous with their Lewis Love and Family YouTube channel that discussed topical issues facing African-American couples.
What makes Monica stand out from the rest is that she's not only a natural hair fanatic, she's a licensed cosmetologist with a budding salon in New York City. The University of Missouri business graduate got her start by posting photos of her gorgeous curls on Instagram that started to get picked up by other women and brands. 
This prompted her to buy the best video equipment she could afford and start her vlog in 2013. She now has over 350,000 subscribers on YouTube, where she instructs viewers on how to work with curls, braids, wash-and-go styles and general maintenance for natural hair. Considered one of the "Top 5 Natural Hair Aficionados" by L'Oreal, she's also worked with brands like Ouidad and Carol's Daughter.
A true veteran in the Youtube space, Ambrosia left her corporate job to pursue her passion as a jewelry designer and beauty expert eight years ago. Now the 26-year-old has 154,000 YouTube subscribers, an online boutique and is a regularly fixture on natural hair Instagram pages. 
She's done the big chop twice, flubbing through the first round and documenting everything on her channel. Her speciality is simple natural hair styles like 3-strand twists, crochet braids, wash-n-go looks and twist-outs.
This Brooklynite has been apart of the natural hair movement since 2010, when she created her YouTube channel documenting her transition from chemically processed hair to natural curls. Her hair grew and so did her following to a whopping 750,000 on her combined social media platforms. 
Now she does consultant work, branded video production and tours with her Luv & Learn Your Hair series, which teaches young women how to embrace their natural selves. But her most recent transition to free-form locs got major attention because of the backlash. 
"My Afro eventually became a beauty crutch for me," she said in an op-ed for Essence. "I noticed that anytime I needed to show up to an event or function, I had to 'show up' with my Afro in order to feel present... I quickly experienced being canceled from a scheduled appearance at a natural hair event... due to my hair change because I was told 'doesn't fit the demo and audience of the attendees.'" She's since continued to grow out her locs.
CharyJay, who's been posting videos since 2009, is one of the more transparent beauty vloggers. While she's praised for her short afro and maintenance styles, the Detroit-native is also candid about her personal life. 
For example, when she broke up with her boyfriend of 11 years, she did a Q&A session on-camera for followers who had questions — it got 74,000 views. But it's no surprise, since the trained videographer started doing this in college once she decided to grow her hair out natural. When she's not talking to her over 110,000 YouTube subscribers, she's producing videos for brands like Carol's Daughter.
Dr. Maeling Murphy
Her Ph.D. in Engineering shouldn't fool you, this natural hair star is respected in her realm of beauty. Based in Atlanta, Maeling started her blog NaturalChica.com in 2009 while in graduate school at Georgia Institute of Technology. Like her contemporaries who started their vlogs in the late 2000s, her intent in producing content was to show her transition from processed to natural hair. 
What set her apart is the platform of using a website in addition to a video channel. Now, the highly sought after personality has 15 million views on her YouTube page and a combined social media following of over 500,000 accounts. And it shows. When she decided to document cutting her hair, her video received 117,000 views and a slew of comments. In addition to running her site, she's currently a brand ambassador for Shea Moisture.
This jetsetter has been throughout Europe, Africa and the Caribbean, combining her love of natural hair and travel. Based in Atlanta, Lexi started her YouTube channel in 2008 when encouraged by her boyfriend to document the trial and error of maintaining her curls. By aligning with other bloggers at the time, she was able to grow her brand as an approachable personality with insightful product reviews. 
She did her very first natural hair meetup in 2009 at a pizza bar attended by 40 people from a social media call-out. By the fourth meetup, there were 500 people in attendance. And when she began documenting her weight loss journey three years ago, her focus expanded from beauty to wellness. Nowadays the 32-year-old is a brand strategist and communications manager for a black-owned media company.