A self-care guide of TV to watch to forget about Donald Trump's rise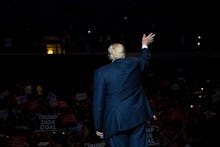 There are myriad of reasons why art will be so important during Donald Trump's presidency, but chief among them right now is as a form of self-care. For many Americans left bewildered after Tuesday's election result, the weekend will be the first days-long stretch of time to think of nothing but the future.
That amount of focus on what comes next can be daunting, as well as potentially perilous for one's mental health. It's easy to get swept up in the scope of it and fail to take care of one's self. The future isn't happening tomorrow; accepting it requires a healthy pace.
To help with said pacing, we've compiled a list of TV shows, all available on streaming services, that we recommend for self-care breaks. None are the kind of challenging, difficult shows we normally recommend, but they're also not the kind of shows that will melt your brain into mush. Now is a time for balance, and these are the shows that will help keep you afloat.
Project Runway
Recommended season: 12
Sometimes, you need to watch Tim Gunn tell a room of hopeful designers to "make it work" to remember what great creativity can inspire. Seasons eight and 12 are both good, readily-available-on-Hulu installments, but let's just say that watching season eight's winner triumph is not what this country needs right now. Season 12 has a much happier finale to enjoy.
Gilmore Girls
Recommended season: two, if you've watched before and use our binge guide if you haven't
Ahead of the series' Netflix revival A Year in the Life, take the opportunity to move into the world of Stars Hollow with Lorelai and Rory Gilmore. Good news: Trump isn't president there! Bad news: George W. Bush is. But they mostly ignore him.
Top Chef
Recommended season: four
As Food Network shows disappear from Netflix, Top Chef stays strong on Hulu — and as irresistible as ever. The Chicago season was a particular delight, with the right balance of likable chefs and drama. It's an easy escape.
Revenge
Recommended season: one
Sometimes, one just needs to watch the rich and powerful get theirs, while the protagonist is dressed in killer fashion. Revenge is the kind of pulpy soap opera that was perfect in its first season and much worse in its next few. Focus on the first and fall in love with queens of vengeance Emily Thorne and Victoria Grayson.