Here's everything we know about Kylie Jenner's makeup store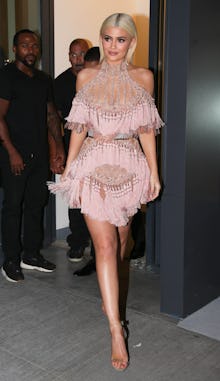 Whether the world wants it or needs it, a Kylie Jenner makeup store is officially happening. 
Earlier this week on Instagram, Jenner posted a number of pictures of herself in what looks like an empty and under construction store with the ambiguous caption "Soon." 
And it sent her 78.3 million Instagram followers into an expected tizzy.
Shortly thereafter, as her fans attempted to recover and regain breath, she revealed a bit more with a picture of what looks like her giving orders to a man, captioned, "MY VISION. I can't wait for you guys to see what goes on inside my mind & what I've been working on. 100% Kylie." 
Jenner first teased the idea of a store in June via her Snapchat, with a picture of herself in an empty Los Angeles storefront with the caption: "Looking for Kylie Cosmetics stores right now." Another pic followed with a hopeful: "Makeup store is about to be lit!"
So yes, as if breaking the internet with her Lip Kits weren't enough, now Jenner is positioning her brand to be the next Sephora. 
As far as where the store actually is, we do not know. Though, it'd be safe to think it's somewhere in southern California, since she does live in Calabasas. And as far as when, no one really knows anything other than Jenner's own declaration of "Soon." 
The one thing we can think about is what the store will look like. Take a gander at Jenner's own Instagram, and you'll see that she loves posing her lipsticks on white marble, so it's safe to say that that hugely popular rock will likely be throughout her store for very important Instagram purposes. 
In the middle of the store, there appears to be a large white checkout table that looks not unalike every single kitchen island in a Nancy Meyers movie, so maybe Jenner's taking hints from some of our generation's greatest rom-coms.
But really, there's no one who knows everything except Kylie Jenner herself, who will hopefully reveal more soon. Until then, breaths remain bated.