Childish Gambino debuts "Me and Your Mama," a desperate gospel off 'Awaken, My Love!'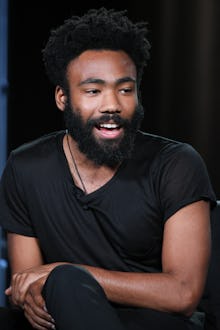 Fresh off the success of Atlanta's record breaking first season, Donald Glover has returned to resurrect his Childish Gambino rap project. He's bringing more eccentric and hostile to standard hip-hop's well-worn tropes than ever.
Gambino debuted new a song "Me and Your Mama," Thursday afternoon on Zane Lowe's Beats 1 radio show on Apple Music. It's a breathless, screeching gospel anthem, perhaps the boldest and most emotionally raw track the artist has ever attempted. Many listeners likely won't even recognize the rapper/actor/comedian's voice in this pained incarnation, seemingly desperately clawing its way towards love.
The song opens psychedelic, trap-infused note, and sounding not unlike a Flying-Lotus production, before it breaks into the aggressive funk shuffle of the song's body. Its power is heart-stopping. "This is the end of us," Gaminbo sings at one of the song's lyrical peaks. "Sleeping with the moon and the stars/ I know where you've been, you can see the Sun."
In its write up of the lyrics, Genius notes that Gambino seems to have debuted this song long ago, hiding it in his Pharos app in epically slowed down form. Following Gambino's Pharos camp-out concert experience in Joshua Tree, California, which fans bought tickets through that app, most assumed the album would come with the same name. But Gambino corrected that assumption Wednesday, confirming the rumors it was coming soon in a tweet and sharing the name: ...Awake, My Love! He shared what might be the album art for the project as well.
The baroque, hallucinogenic aesthetic of the art matches the song's ecstatic lushness, and helps confirm what we know about the coming album: This is going to be a very different Gambino than the alt rap nerd we first met back in 2008, and we are here for it.