'Mr. Robot' season 2 was the only series prepared for President Donald Trump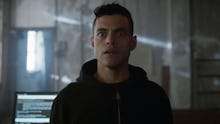 There are few shows that have had as polarized reception as the first two seasons of USA Network's Mr. Robot. The first, from 2015, was a breath of fresh air with a wholly creative conceit that creator Sam Esmail executed deftly. Awards bodies were, in turn, very kind to the cast and Esmail. 
Contrast that to a second season which had its fair share of critics — though even its harshest had to give credit to the show for its originality. "I can't stop watching it, because even at its least coherent, it's more assured, more mysterious, and more viscerally intense than any other drama on commercial television," Vulture's Matt Zoller Seitz wrote. 
But the second season, at times manipulating the audience's paranoia, other times just testing viewers' patience with signature twists, was perhaps a victim of poor timing. More than any other show on TV, Mr. Robot was prepared for what the rest of America must now endure: President Donald Trump. If it aired next year, it might've found a much more receptive audience.
Mr. Robot's earned a lot of kudos for its realistic portrayal of hacking and cyberterrorism, but it still exists in a surreal alternate reality just a touch different than our own — similar to FX's surreal Atlanta. But on Mr. Robot, it's still a grim reality, as the show's second season makes clear. 
Season one had a somewhat foreboding sense of optimism: You have a profoundly alienated hacker, Elliot, the David equivalent to Evil Corp's Goliath. For much of the season, even when he struggles with his personal demons, there's a sense than he can really pull off hacking Evil Corp with the hacktivist collective fsociety. By the end of the season, the fsociety hack is a success. 
But is that a good thing? 
It's clear from the get-go in season two that Elliot and the other members of fsociety were completely in over their heads. Elliot spends the first half of the season in jail (one of the many twists), the rest of the group led by Darlene is without a plan. It's bleak, yes, but this is in line with the show's own real-life influences. 
"Virtually all of fsociety's real-world technological and political analogues have struggled to achieve their goals, been met with repressive state sanction, or seen even apparent successes reversed or ignored," Sean T. Collins wrote for the Observer. 
In Mr. Robot's America, this means the fsociety hack was potentially signed off by members of the corporation they were trying to demolish. Evil Corp's CEO, Philip Price, uses the tanking economy as a means to create a Bitcoin equivalent that his company can espouse. We get a narrow view of this through Elliot's eyes, as he's in over his head — even though the voice in his head (Mr. Robot) prompted this dystopian future. The last we see of Elliot, he's lying in a pool of his own blood after being shot, convinced that the Tyrell Wellick he was speaking with was another figment of his imagination. 
If season one was about the hack, season two was supposed to reflect how the world, and our protagonists, coped with it. It's great, compelling television, but none of it was affirming. The world, and our hero, were in disarray. 
What was going on in real life during summer 2016? Trump was confirmed as the Republican presidential nominee. The Democratic party was still fighting over Bernie Sanders and Hillary Clinton at the Democratic National Convention prior to the season's premiere. It was political hell, and the escapism Mr. Robot — and that art, in general — provided was comparably somber. 
We instead turned to other shows; ones that made us yearn for something fantastical. We found Stranger Things. The Netflix series was a nostalgic joyride through the '80s, offering a balance of humor and horror that could, ostensibly, cater to a wide audience. In 2016, it's exactly what we needed — the ratings and hype surrounding the show, even now, confirms this. 
But now we are enduring what many among us consider a living nightmare: Trump is the United States' president-elect, set to be arguably the most unqualified president in modern American history. As one Twitter user sent to Esmail, "We are living your show and it doesn't look good."  
Mr. Robot's second season was ultimately ahead of its time — if only by a year. The prospect of a Trump presidency loomed, but it was still uncertain. We didn't want to face that pessimistic reality, and entertainment is a necessary outlet; a reverie from what we endure on a daily basis. We sought shows with at least a touch of hopefulness, and we had many to parse through (even Game of Thrones had its most optimistic season yet).  
As Mic's Kevin O'Keeffe noted after Trump's win, "When hate reveals itself, art counters with brilliance. Art counters with inspiration. Art counters with anger. And art counters with love." Mr. Robot will surely tap into this national anger, just look at Esmail's tweets — except it will be timely. 
It shouldn't be surprising, then, that Mr. Robot's third season is tempted to tackle Trump, which will only be heightened now that he's won. As for the tenor Esmail will imbue, we had an idea in season two during a discussion between two Evil Corp higher ups. 
Said former CTO Terry Colby: "Can you believe that cocksucker is actually running this time?"