Bernie Sanders for president in 2020? He's not ruling it out.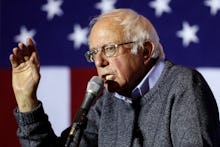 Sen. Bernie Sanders is not ruling out the possibility of another run for president, telling the Associated Press on Thursday that he's taking it "one thing at a time."
"Four years is a long time from now," Sanders told the AP. "We'll take one thing at a time, but I'm not ruling out anything."
Sanders is currently 75 years old.
In four years, he'd be 79, and would be 83 at the end of his first term if he won. That's older than President-elect Donald Trump, who at 70 will be the oldest person to assume the office.
Aside from talking about his political ambitions, Sanders also reflected on the 2016 campaign and the defeat of Hillary Clinton — whom Sanders campaigned hard for in the final days of the race.
Sanders blamed the loss on a "lack of enthusiasm" from Democrats.
"People just did not come out to vote," he told the AP.
He added that the Democratic Party has a messaging problem, given that historically Democratic white working-class voters backed Trump and the GOP in massive numbers.
"It is an embarrassment, I think, to the [entirety] of Democratic Party that millions of white working-class people decided to vote for Mr. Trump, which suggests that the Democratic message of standing up for working people no longer holds much sway among workers in this country," Sanders told the AP.
Sanders added that he is not optimistic about his ability to work with Trump.
"I hope I'm wrong, but I believe that he is a fraud, and I think despite all of his rhetoric about being a champion of the working class, it will turn out to be hollow," Sanders said.