How did Hillary Clinton lose the election? The complex story behind the historic loss.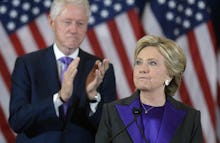 Tuesday's Election Day concluded with a massive upset, which left Republican Donald Trump the president-elect, beating his opponent Hillary Clinton, the frontrunner and candidate favored to win. 
Even the Trump campaign seemed to buy into the narrative of Clinton's inexorable victory. "It will take a miracle for us to win," a senior Trump advisor said Tuesday afternoon.
The outcome left huge swaths of the country wondering how we got it so wrong; it was unnerving. The pain of a Trump victory for Clinton supporters was augmented by this feeling of unease. 
Practically every poll consistently had Clinton ahead in the run up to the elections. The country — the world — was bracing itself for what it thought would be an inevitable celebration. 
So what exactly went wrong? How did the country end up with Clinton cracking, but never quite shattering, that glass ceiling?
The Electoral College system
First off, our Electoral College system worked against Clinton. She is widely expected to win the popular vote (a small number of votes is still being counted), and, were we a country that determined elections by that metric, she would be president-elect right now. 
This isn't a rarity. Democrats have technically won six of the seven last general elections, yet — because of the Electoral College system — a Republican nominee has won three times. It's an issue that hasn't been lost on many, as frustration with the Electoral College has been mounting. 
That "Crooked Hillary" rhetoric
There's the matter of emails, emails and more emails: from the Benghazi hearing (when Republicans ambushed Clinton with thousands of emails) to the private server snafu to WikiLeaks' dumping approximately 10,000 emails, the saga dragged on.
FBI Director James Comey's announcement — just 11 days before the election — that his department would be looking into Clinton emails for the second time running, did lasting harm, too. She was later cleared again, by Comey two days prior to the election. But the incident helped push the narrative, and it did not help dispel the criticism of Clinton that she was too much part of the establishment. 
"It killed her campaign in the sense that it reinforced all of the misgivings and uncertainties that people have had about the Clintons for years," Lara Brown, associate professor of political management at George Washington University, told Al Jazeera.
Internal strife in the Clinton camp
The campaign itself was not without its own internal battles, as Politico's Edward-Isaac Dovere reports: 
Bill Clinton complained throughout that [Robby] Mook was too focused on the ground game and not enough on driving a message-based campaign. Without a chief strategist in the mold of [Mark] Penn or David Axelrod, the campaign was run by a committee of strong-willed aides, struggling to assert themselves in the same space. Longtime consultant Mandy Grunwald and [Jennifer] Palmieri grappled at points over message control as Palmieri worked her way into the inner circle. Mook and strategist Joel Benenson barely spoke to each other for the month of April, battling over their roles.
Voter prejudice
There is also the unavoidable matter of gender and sexism. And voter turnout, by demographic, would suggest an adherence to the patriarchy might be equally entrenched in women as it is men: Clinton actually received one percentage point fewer votes from women (54%) than President Barack Obama (55%) did in the 2012 election. 
We cannot definitively say that her womanhood worked against her when it came to the women's vote — but it certainly did not help her. 
And this suspicion of a sexist undercurrent helping drive the course of the election is undergirded by the fact that the man who ultimately won is profoundly misogynistic. 
Leaked tapes before the election of Trump describing how he enjoys sexually assaulting women — how he's famous enough to "grab them by the pussy" — did not deter voters from casting their ballot for him. This is the same man who, incidentally, has been sued over 20 times for mistreating women, from allegations of sexual harassment to rape. 
But, in the end, a question this complex brings a multitude of variables into play and all we can do is theorize with the information we have available. What's certain is that, in this new political landscape, complacency is no longer an option.