When it comes to first lady style, can Melania Trump compare to Michelle Obama?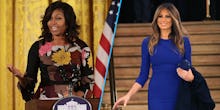 The moment many Americans first laid eyes on Michelle Obama was at the 2004 Democratic National Convention, when she joined her husband Barack Obama on stage after he gave his keynote speech. 
She came dressed in a conservative white pinstripe suit with a skirt and a single strand of large pearls. 
Meanwhile, the moment many Americans first laid eyes on Melania Trump, she was standing tall in her $100,000 Christian Dior wedding dress on the February 2005 cover of Vogue. "Donald Trump's New Bride," the headline read.  
Of course, these two women were in entirely different stages of their lives and careers (as were their husbands), but it does go without saying that the first lady we have at present is an entirely different woman than Melania Trump. Although they both will share the title of first lady, they really couldn't have less in common, from their upbringings to their careers to their politics and especially their clothing.
Journalists have fixated on first ladies' fashion through much of the nation's history, from Mary Todd Lincoln to Jacqueline Kennedy Onassis to Hillary Clinton to Michelle Obama.
Already, Melania Trump has had her fair share of fashion scrutiny. The pussy bow blouse at the second presidential debate caused a massive stir, as did her voluminous sleeves at the Republican National Convention. Michelle Obama received similar treatment on the campaign trail, from her teal dress by Maria Pinto at the 2008 Democratic National Convention to her red and black Narciso Rodriguez dress on election night.
When Trump enters the White House in January, there will be even more attention and likely criticism regarding what she wears, as Obama has seen over the past eight years.
But here's one thing we can promise you come January: Melania Trump's style will be compared to Michelle Obama's, but how she will fare is yet to be seen. The two women differ wildly when it comes to their own approaches to fashion.
To be or not to be relatable? For starters, Michelle Obama has capitalized on this idea that as a first lady, she should be relatable, which extends to her fashion choices as well. 
"Michelle Obama is fashion icon with an affordable, accessible style," the Baltimore Sun wrote in 2013. And indeed, Michelle Obama has stayed consistent in her dedication to wearing pieces that women across the America have access to.
She wore a pair of green J. Crew gloves to her husband's first inauguration and a J. Crew belt to his second. For an appearance on Today, she wore a $35 H&M dress. To a lunch with Nancy Reagan, she wore a $10 T-shirt. When she met with a former British prime minister's wife, she wore a cardigan and a skirt from J. Crew. Plus, she repeats outfits — like dresses from Talbots and Target — on the regular.
And if Melania Trump's fashion on the campaign trail tells us anything, it's that she will not be wearing Target or H&M or J. Crew in the near future, or probably ever. (Not that there's anything wrong with that.) 
Nothing she has worn has been under, say, $600. So far during the campaign, Melania Trump has worn Gucci, Balmain, Ralph Lauren, Hermès and Michael Kors. In an interview with Elle, Melania Trump counted Alexander McQueen, Chanel, Christian Louboutin and Valentino as some of her favorite designers. 
"I like to get dressed up," she told Elle. "I don't see myself going out in sweats, dropping Barron at school in sweats — it's just not my style, never was."
Of course, Michelle Obama has worn her fair share of expensive outfits too, like that marigold Narciso Rodriguez dress she wore to the 2016 State of the Union address. But before the White House, before designers took an earnest interest in dressing her, Michelle Obama wasn't wearing Armani and Balmain. That just wasn't her style, or within her price range. 
But for Melania Trump, it is. 
They both have individual flairs: While Michelle Obama is all about classic, attainable and fun fashion, Melania Trump is all about being timeless and elegant. 
"I don't follow what is in fashion now; I just listen to myself and what I like... what makes me feel good and what looks good on me," Melania Trump told Elle. "I wait for the right occasion or see how I feel each day." 
And indeed, she's formed a sort of uniform at this point rather than following any trends at all. As many have noted, she loves beige and white and black and red. The pop of that hot pink pussy bow blouse stood out not only because of the irony of the style's name, but because it was a color she had never experimented with before during the campaign. 
Melania Trump also loves sheath dresses with flattering, cinched waistlines, and coats hung on her shoulders, which give her a sort of unapproachable and untouchable elegance.
For her very first campaign trail appearance in November 2015 in South Carolina, for example, she wore a nude, body-hugging dress with a thick belt and a bright red coat across her shoulders. The night Donald Trump came in second in the Iowa caucus, she wore a similar red coat, but with a tight red dress underneath. 
Michelle Obama, meanwhile, often wore ladylike suits and sweaters paired with a belt while on the campaign trail with her husband in 2008, giving off a much more friendly-elementary-school-teacher vibe. Of course, that can be attributed to income, with Michelle Obama, a lawyer herself, married to a lawyer, professor and politician, and Melania Trump married to a supposed multi-billionaire real estate magnate. 
But regardless of income, Melania Trump's style seems to be far closer to that of Nancy Reagan and Jacqueline Kennedy, to whom she has already drawn comparisons. 
"She would be the most glamorous first lady since Jackie Kennedy," Roger Stone, Donald Trump's former political adviser, told the Washington Post.
Keen attention to detail: Beyond relatability in fashion and taste, Michelle Obama has paid particular attention to elevating lesser-known designers, and particularly designers of color. 
She has worn dresses by Jason Wu, who is just 34 years old; Thakoon, a designer who was born in Thailand and immigrated to America when he was 11; by Narciso Rodriguez, a Cuban-American designer who's the son of immigrants; Tracy Reese, a black woman; Indian designer Naeem Khan; and Prabal Gurung, who was born in Nepal. 
Clearly, Michelle Obama has made an effort to wear not only designers of color but also designers who have immigrated to the United States. 
Thus far in her career as a soon-to-be first lady, Melania Trump has only worn one notable label from a designer of color: Balmain, whose creative director, Olivier Rousteing, is of mixed race. Because she often doesn't reach beyond the most popular designers out there, she hasn't worn many designers of color, which is telling about the lily-white fashion industry itself. The most "Who?" designer she's worn is Roksanda, a label founded by a woman from Serbia. 
If her pattern holds up, don't count on Melania Trump to pull up in an ensemble from Hood by Air or Comme des Garçons or even the very young Christian Siriano, who's now a MObama favorite. 
But there's also admittedly one thing holding Trump back right now in terms of furthering her fashion and the designers she wears. And that's that, quite frankly, the fashion industry hates her husband. Vogue endorsed Hillary Clinton. Designers like Marc Jacobs and Tory Burch rushed to help design hip and cool merchandise for Clinton's campaign, not Donald Trump's. And already, one designer, Sophie Theallet, is calling for other designers to refuse to dress Melania Trump because of her husband's hateful rhetoric. 
Compare that to what Michelle Obama experienced when she first entered the White House. Designers were rushing to design custom gowns for some of her biggest appearances, from her first Inaugural Ball to her first state dinner. 
However, despite all that, there is hope for Melania Trump, though it is slim. Say Donald Trump's presidency isn't the fascist regime many say it's going to be. Say people come around to Melania Trump. Then, there is the exciting prospect of Melania Trump getting herself a first lady makeover with the help of young and innovative designers who would be more willing to show her some love. 
Over the course of the decade or so she's been in the public eye, Michelle Obama herself has gone through many different style incarnations. In the beginning, she dressed like an elementary school principal. Now, she wears rose gold chainmail dresses by Versace to state dinners. 
Obviously, Melania Trump has the ability to switch things up. Right now, most people see her as a kind of silent figure, but as a first lady, she can say a lot with just her clothing — by making an effort to wear designers who are immigrants, Muslim or non-white, for example.
By only wearing the most established designers, who are mostly white, she's missing out the opportunity to bring attention to some of America's most promising and exciting talent. At the end of the day, it'll be on Melania Trump to decide whether or not she'll be using (or actually have the chance to use) fashion as a tool. For Michelle Obama, it worked. For Melania Trump, we'll just have to wait until Inauguration Day to see how she chooses to define herself.