Who voted for Donald Trump? Old, white men, according to exit polls. Lots of them.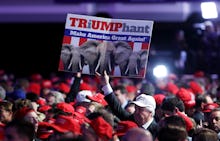 America has a new president, and white people are the ones who chose him.
Comprehensive exit polls from the 2016 election show that the voters who turned up to support Republican President-elect Donald Trump were 53% of men, 58% of white people and 53% of people ages 65 and over, according to the New York Times.
Education level
The polls also showed that 67% of white Americans without college degrees cast their ballots for Trump, while 75% of nonwhite Americans without college degrees cast their ballots for Democratic candidate Hillary Clinton by comparison.
Religion
Trump's unexpected success at the polls was also assisted by a record-breaking Evangelical voter turnout. According to Time, the religious group comprised 26% of the electorate on Tuesday, casting their votes for Trump at a rate of more than 80%. It's likely that Trump's running mate, Indiana Gov. Mike Pence, himself an Evangelical, helped mobilize the population.
Gender
And despite Clinton's history-making campaign as the first female nominee of a major political party, female voters were ultimately not galvanized to vote for her in the numbers that pollsters predicted. Trump had support from 53% of white female voters, while only 43% of white women were truly #WithHer.
Although no poll had seemed able to foresee an imminent Trump victory, Matt Oczkowski, a member of Trump's data team, told CBS News that the outcome of the election had come as no surprise to them.
"After the third debate, we really started to see a gradual climb for Mr. Trump towards Election Day," he said. "I think his debate performance coupled with the FBI email investigation was really a big boon for the campaign." 
Oczkowski attributed the media's failure to predict the come-from-behind victory to an unwillingness to acknowledge reality:
"The trends that we saw late, a lot of people didn't want to believe it."