Trump's Muslim ban statement reappears on campaign site after temporary removal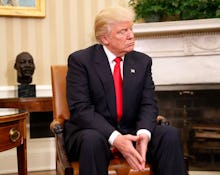 Following the results of Tuesday's election, Americans are left wondering if president-elect Donald Trump will follow up on his more extreme policy proposals — and it seems the Trump campaign might be wondering the same.
Within 24 hours of his election, Trump's statement calling for the "total and complete shutdown" of Muslims entering the United States disappeared from his campaign website. The campaign explained to the Washington Post that the site was "temporarily redirecting all specific press release pages to the homepage" and would be fixed shortly.
Thursday afternoon, the press page was fully restored and operational. 
The statement is worth rereading if just for a refresher on how drastic such a measure would be, and what it means now that Trump has won the White House.
In the statement, Trump — referring to the hate he alleged Muslims inherently feel for Americans — said, "Until we are able to determine and understand this problem and the dangerous threat it poses, our country cannot be the victims of horrendous attacks by people that only believe in Jihad, and have no sense of reason or respect for human life."
Naturally, he added, "If I win the election for president, we are going to Make America Great Again."
As Mic reported on Thursday, there is indeed a dark history in the United States of issuing blanket policies to exclude entire groups from the country, the Chinese Exclusion Act of 1882 and World War II's Japanese Internment being prime examples. 
While it remains unclear whether Trump is willing to put up a fight against the Constitution to realize his proposed Muslim ban, Muslims in the U.S. are feeling the implications of Trump's Islamophobic rhetoric — and are fearing for their lives and future in this country.
"My mom literally just texted me, 'don't wear the hijab, please,'" a Twitter user named Jannatin wrote early Wednesday morning. "And she's the most religious person in our family."