Common 'Black America Again' Review: Exactly what we need to cope with the 2016 election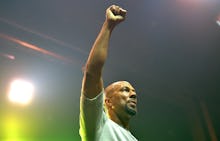 It's been a little over 24 hours since the 2016 presidential election concluded, and I, like millions around the world, still find myself asking, "He really won?" What I get as an answer are pictures of protests and uprisings in the country's metropolitan centers; a sense of despair, confusion and rage in the social media posts of some and unbridled joy and emboldened hate in that of others'. Donald Trump's victory over Hillary Clinton feels a significant milestone for not just where we are in the country today, but how far we still have to go.
Waking up with a feeling of helplessness, I've needed something to make me feel that soldiering on will feel worthwhile, and I feel I've found my grail: Common's Black America again. Since Wednesday morning, I haven't been able to turn it off.
The politically charged record, released last Friday Nov. 4, tackles the very themes this election has served, in part, to decide our path forward: racial tension, police violence, the rewriting the history of black culture and people. Many in this country deliberately chose a path of hate and dehumanization, and the album acknowledges these people exist, perhaps to a greater extent than many liberal voters did. But it also charts a path forward. Black America will persist and thrive, the album insists, the way it has at so many crucial turning points in the past. No message seems more necessary to push forward in the shadow of the election 2016.
The album unites past and present by building its sonic foundations out of core, soulful hip hop. Celebrating black excellence, the album samples luminaries such as a Minister Louis Farrakhan on the Bilal-assisted "Home." In a song where Common champions famed writers Ta-Nehisi Coates and James Baldwin, he samples Wu-Tang Clan member, Ol' Dirty Bastard. It bridges and blends different shades of the black experience rather than seeking to compartmentalize and hold one expression as more significant than another.
Speaking about the album to Billboard, Common explained as much.
"I felt like Black America Again was a strong statement and it also was a way to start the conversation to say Black America Again isn't only about the protesting and the justice ... Black America Again is about humanity and how we express ourselves, love and ways of feeling free."
With 20-plus years of rhymes behind him, Common is still expressing himself brilliantly on wax. There's an angriness to his words that we haven't been since Be (2005), when he spoke the sentiments of the marginalized with tracks like "Go" and "The Food." The album reverses the notion that hip-hop is a young man's game. An old head's perspective still holds weight.
The album's title track serves as its cornerstone. Featuring vocals from Stevie Wonder where he sings, "We are rewriting the black American story," the song pays homage the slain, but looks towards a liberated future. In the opening lines, Common raps: "Trayvon'll never get to be an older man/ Black children, they childhood stole from them."
In later lines, he recognizes the various issues that haunt the still-living:
I know that Black Lives Matter, and they matter to us
Despite the bleak picture the lines paint, producer Karriem Riggins offers hope with interjections of James Brown sample, in which the godfather of soul offers solutions. In a clip from a 1968 live concert, Brown reasons that "one way of solving a lot of problems that we've got is to let a person feel like somebody. And a man can't get himself together until he knows who he is, and be proud of what and who he is and where he come from."
One can't listen to this album without facing these soul-searching questions, and that's what we need to do right now.
Music, especially black music, has always provided the soundtrack to some of the country's toughest and most pivotal moments. Marvin Gaye's What's Going On, Stevie Wonder's Songs in the Key of Life or Public Enemy's It Takes A Nation of Millions..., music has all measured the pulse of the country. It feels unproductive to attempt to compare BAA to these classics in terms of quality, but Common's album has its place in today's post-election turmoil.
Black America Again offers a sense of hope for many people who've been marginalized, and though the title explicitly recognizes the plight of black Americans, its message is universal. It suggests that any proposed cultural "truth" can be rewritten, recontextualized.
The album dreams of a world in which minorities and allies alike can challenge white supremacy through unity and action. Listening to the album has given me a new sense of perspective: This is a chance to destroy & rebuild America. While facing a Trump presidency is both bizarre and horrifying, it will certainly drive Americans to learn more about one another and the mechanisms that buttress the System voters seemingly despise. It will help reinvigorate a revolution that has been brewing for years now, headed by the #BlackLivesMatter movement.
Black America Again will serve as the soundtrack to one of the country's gravest moments but hopefully, the wish for change and new life inherent in album's title will be realized in the years to come.