Walmart Black Friday 2016 ad released — check out the biggest deals before Thanksgiving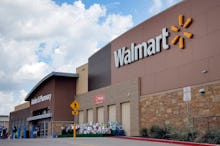 Get ready to spend Thanksgiving standing online with strangers. Walmart's 2016 Black Friday ad was released Thursday, revealing some of the biggest tech deals ahead of the holidays.
The retail chain unveiled their deals for the biggest shopping day of the year exclusively on their app. While it's advertised as "Black Friday" sales, the specials actually begin in stores at 6 p.m. on Thursday, Nov. 24. Those that don't want to ditch their family on Thanksgiving for hectic, long lines can shop sales online all-day on Thursday. 
While the ad is out now, shoppers will have to check the app on Nov. 17 to get a map of their local Walmart store. The map lays out where lines for the hottest items will begin.
As for those who are ready to start spending now? Walmart is offering some early sales. A Hitchai 65-inch 4K TV is on sale for $599, while an Acer 15.6 Core i5 Laptop is on sale for $299. 
Check out some of the biggest deals Walmart is offering starting Thursday, Nov. 24. (Links do not reflect discounted price or exact Black Friday item.)
— Class Element 40-inch HDTV for $125
— Emerson 50-inch HDTV for $225
— Philips 55-inch 4K TV for $298
— Vizio 60-inch HDTV for $398
— Samsung 60-inch 4K Smart TV for $648
— PlayStation 4 Slim Uncharted 4 500GB Bundle with $30 gift Card for $249
— Xbox One S White 500GB Battlefield Bundle for $249
— Xbox 360 500GB Forza Horizon 2 Bundle for $129
— iPad mini 2 32GB for $199
— HP 15.6-inch Laptop Bundle, including laptop, reversible sleeve, wireless mouse and 16GB flash drive for $349
— Fitbit Flex 2 for $69
— Fitbit Alta for $99
— Fitbit Charge 2 for $129
— Polaroid Instant Digital Camera Bundle, including camera case, 8GB microSD card, USB cord and Polaroid 10-pack zinc paper for $84
— Nest for $199
— Canon SLR 2 Lens Bundle, including 75-30mm lens, camera bag and 16GB SD card for $449
— Dyson V6 Slim Cordless Vacuum for $196
— Hovertrax 2.0 Hoverboard for $273
— Promark 3D Virtual Reality HD Drone for $99
— DHI Drone Phantom Standard 3 for $369