Anti-Trump protest in Portland turns into violent "riot," police arrests dozens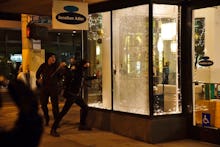 It began as a peaceful march to protest Donald Trump's impending presidency. But the Thursday night demonstration in Portland, Oregon, quickly became violent, with so-called "anarchists" holding bats, throwing objects at police and breaking storefront windows and engaging in other acts of vandalism, according to the Portland Police Department's Twitter feed.
The police department, which tweeted frequent updates throughout the evening, eventually deemed the protest a "riot" because of "extensive criminal and dangerous behavior." They also classified it as an "unlawful assembly" and urged crowds to disband.
The department's Twitter feed said that "after several orders to disperse, police have used less lethal munitions to effect arrests and move the crowd." Officers deployed pepper spray and rubber bullets.
An early Friday morning tweet said 26 people had been arrested.
Trump's shocking victory in the presidential election has sparked protests in cities across the country. On Wednesday night, protesters in New York City gathered in Union Square and marched north toward Trump Tower in Midtown. 
Demonstrations are slated to continue throughout the weekend.