7 secrets to getting richer — not poorer — during the holiday shopping season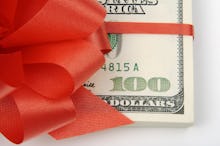 The holiday season can create a real cash flow problem: there's not enough cash flowing.
Americans plan to spend an average of around $935 on holiday gifts this year, according to National Retail Federation. And, if you count the $140 people expect to spend on themselves along the way, the grand total is $1,075.
Ouch.
If you have made some efforts at saving money for the inevitable gift-giving, party-going and non-stop money-draining festivities of the holidays, great job. 
But if you haven't saved enough (or any!) and are planning to wing it, here's our suggestion: Please don't. That's a recipe for debt and a ding on your credit score.
Instead, you should find some low-maintenance, high-return ways to balance out your winter shopping costs.
These seven strategies will help save or earn you literal thousands of dollars over the holidays, so you arrive in January ahead — not in the red.
1. Tighten your financial ship: End subscriptions, cancel memberships and eliminate old auto-pays
Many people wait until January to commit to financial New Year's resolutions. But why delay this kind of housecleaning? You need the money now. 
Set aside a chunk of time to comb through your checking account for subscriptions you don't need, memberships you don't use and auto-pays you forgot about. 
Now may be the time to finally hack cable off your tab and rely on Netflix, Amazon Prime, HBO-Go and other over the top streaming services. 
Cable bills hit an all-time high this year at around $103 a month. Check yours. The average is about double digital starter packages. What you signed up for may have ballooned into much more than you're willing to pay.
Hunt through your accounts sniffing out other subscriptions or auto-pays to companies that are making money off of you forgetting about them. 
In a fit of adulting, for example, did you go and check your credit report, only to get lured into ongoing payments to a credit reporting agency?
Did you sign-up for advanced access with an ancestry site inspired to do family research after last year's holiday dinner and have gone no further than your great-grandma? 
Shut those down.
Also: Let's be real, are you actually going to the gym? Cancel now and revisit that next summer — when memberships are deeply discounted. In the meantime you could find free workouts on YouTube. Gym memberships are about $60 monthly on average, so that savings will add up.
By cutting cable you'll save an average of $103 a month. You'll still have a screen-time cost since you'll pay a fee for a service like Netflix — the mid-level plan is $9.99 a month. But that saves you $93 a month. 
If you found another $5 or $10 monthly fee hiding in your account that you can get rid of you'll save even more.
Cost: Nothing
2. Rent out your place while you're away over the holidays
Traveling over the holidays? Put your apartment or house to work for you and rent it out on a site like AirBnB, Roomorama or FlipKey. These are three sites that have low or free host fees and are free to list a property.
Even if you aren't traveling, if you have an alternative place to crash, it could be worth your while to make your place available, since lodging prices go up during seasonal peaks, although not everywhere at the same time.
AirBnB says the average weekly earnings for hosts is $394. Roomorama's average booking lasts 9 days and guests spend around $1,000. 
If you rent out your place for one week on AirBnB, you'll pay a 3% hosting fee on each booking. That's $11.82 if you earn the average — $394 — from a single booking. 
Obviously, the more weeks you rent out your place, the more money you can earn. Roomorama doesn't charge any hosting fees, so the only added expense and effort is what it takes you to clean the place and launder sheets and towels for your guests. 
Let's say you get an average booking of $1,000 through Roomorama, during a week you're planning to be away.
Cost: Cleaning costs (about $60)
3. Pay as you go — with debit
When the gift-buying, party-hopping, festivity seeking runs ahead of your checking account, most people turn to credit cards. 
Be warned: The average post-holiday shopper with debt adds another $986 in debt by January, according to a survey by Magnify Money.
That will weigh down your debt payment plan and may take months or even years to pay off. Let's say you have a card with a 16% interest rate that requires $25 monthly minimum payments. Your new debt could take you nearly five years to pay off — and that's on top of what you already owe.
Unsurprisingly, 44% of debt holders report they are stressed out about it.
To keep tabs on your cash as the days dwindle on 2016, pick-up a free budgeting app like Mint or YouNeedABudget.
Reigning in spending will be easier using your debit card instead of your credit card, so you don't spend money that you don't have.
If you're able to avoid taking on the average amount of debt, that $986, as well as the interest on it generated by paying only the minimum, another $423, given the assumptions above, you'll come out ahead — that's a total of $1,409 that you didn't rack up.
Cost: Nothing
4. Become a personal shopper or make deliveries
Maybe you are not looking for another job.
But by signing up for shifts — discrete tasks you can do on your off-hours with services like Shipt, Instacart, Doordash or TaskRabbit — you will feel more like you're getting paid to run errands than another true job-job.
These gigs are on your time, and there are fewer costs and less liability than driving people around in your car.
Shipt is an on-demand grocery delivery service that needs people like you to shop for groceries and deliver them for $15 to $25 an hour. Reviews of Shipt as a gig are favorable, especially if the work is bonus income.
Instacart is also an on-demand grocery delivery service that operates in 19 states and Washington DC. Instacart job reviews are favorable if it is a second income. But be ready for inconsistent hours from week to week: "You can make $750 - $1000 one week, and go down to having a 3hr week the next," wrote one reviewer from Brooklyn.
With Doordash, you may be delivering food from a restaurant or goods from a store. It operates in 25 cities across the country, pays a flat amount per delivery and all tips are yours. The reviews of Doordash are also positive as an additional income generator.
At TaskRabbit, you grab jobs that come available — like picking-up deliveries, but also house cleaning, furniture assembly, moving help or handy housework. You set your own pay. Like the others, the reviews of TaskRabbit are good for those looking for extra cash.
Remember, when working with these companies, you are classified as an independent contractor, so the company does not withhold taxes. After you make $600 or more, these companies will issue a 1099-MISC form to report the income you made with the company. You'll need to pay tax in the spring.
Let's say you are able to put in 8 hours a week for four weeks over the holiday season with Shipt, which pays you $20 an hour: That's $640 you didn't have before!
Costs: None (until tax time)
5. Babysit while childcare is at a premium
Think of it as "event-based child enrichment," if that makes you feel better. 
What you're doing is providing a service when there is the greatest need: the holidays. Parents are crazy during the holidays. There are work events, parties, they want to go shopping. They really need babysitters, which means you can charge a lot for individual families, or net a lot with a group event.
What kind of event?
Grab a (qualified, kid-friendly) friend and invite the parents in your building, neighborhood or other community to drop off their tykes and enjoy a "Parents' Day Out" or "Parents' Night Out."
Without going mom-deep on Pinterest, it is pretty easy (and maybe fun?) to put together some winter-holiday activities for the little crumb-crunchers. Bake cookies for a decorating party, or have them assemble tasty reindeer treats.
By hosting the children for three hours and charging a flat-rate of $20 per kid or $30 a family, you are giving parents a bargain. If you and your buddy have 8 kids (a manageable ratio, for kids under age six, is generally one adult for every four kids), you'll have $160 coming in.
If you host events on the four Saturdays between Thanksgiving and Christmas, you'd net $640, minus expenses and paying your partner.
Costs: $40 in snacks, supplies
6. Microtask on your phone
Did you know you can put your phone to work for you? 
Applications like EasyShift and SlideJoy allow you to make almost passive income.
These are apps by marketers, so if you don't like to feel too much like a tool to commerce, this may not be for you. But if you're fine with getting paid to look at advertising, because you're already looking at plenty of ads without getting paid for it, this is a pretty easy deal.
SlideJoy is an app that pushes an ad to your locked screen on your phone when you pick it up. You can slide to learn more, slide to see another ad or slide to go to your home screen. 
An algorithm determines how much you get paid, but writers estimate it is $10 a month; users say it is less.
EasyShift is similar to the delivery gigs, except that you don't have to deal with people. The app will give you a task a company needs done near you — take a storefront photo, check a particular brand's stock or display in your local store — you upload the photo or report what you see and you'll get paid.
The jobs vary in pay and are set by the company requesting the help. Most jobs pay between $2 and $6, although they can go up to $20. 
If you get on board with one or both of these, chances are you could come up with a few dollars — just for doing what you already normally do.
Cost: Free
7. Wrap gifts for cash
Some people get a zen-like calm from wrapping presents. For others it is a level of hell. Assuming you have some passable skills, wrapping folks' presents is a great way to get ahead over the holidays. 
Channel your inner Martha Stewart and set up a wrapping station in your house, send out an email blast offering your services and go to town. 
Set a price list, like $5 for small gifts, $8 for medium and $10 for large items and make some extra cash.
Parents, in addition to having zero time for present wrapping, generally want to keep presents out of kids' reach. You may be able to wrap and store their kids' gifts until Christmas Eve. Throw in $25 storage until Christmas even offer $30 to deliver it on Christmas Eve and you'll have parents lining up.
It's something you can do on your time, with little investment and come out ahead.
If you wrapped a mix of presents (10 at $5, say, eight at $8, and four at $10) and stored them for two families you'll net more than $200.
Cost: $25 wrapping supplies
You're not likely to take on all seven of these challenges, but if you somehow did — and earned or saved close to these estimates — you would come out ahead by a total of more than $3,000. 
Yes, it's nice to be merry, but even better to be bright about your money this holiday season.