Is it legal to smoke weed in Arizona? State votes against recreational marijuana use.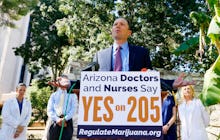 Though the contentious results of the 2016 presidential election have left many feeling angry and dejected, supporters of marijuana legalization have had reason to celebrate, as eight states passed some form of marijuana legalization in Tuesday's election.
Marijuana proponents in Arizona, however, were not quite so lucky. Unlike Maine, California, Massachusetts and Nevada, which all voted in favor of recreational marijuana use, Arizona's push for recreational marijuana legalization, Proposition 205, was struck down on Tuesday by a vote of 52.1% to 47.9%.
If it had passed, Arizona's new marijuana legislation would have allowed adults to possess up to one ounce of marijuana and grow and consume marijuana in non-public places. Marijuana sales would have carried a 15% tax, with the revenue going to fund the state's marijuana infrastructure along with Arizona schools, full-day kindergarten programs and substance abuse education.
Prop. 205 was driven by the Campaign to Regulate Marijuana Like Alcohol and sponsored by the Marijuana Policy Project of Arizona, while opposition to legalization was led by Arizonans for Responsible Drug Policy and vocal opponent Gov. Doug Ducey. The robust opposition campaign was funded with help from high-profile GOP donor Sheldon Adelson, as well as U-Haul, whose corporate headquarters are in Phoenix, and Scottsdale-based Discount Tire, which is Arizona's largest private company.
Though proponents of Prop. 205 stressed the economic benefits of marijuana legalization, the initiative was also criticized for its anti-entrepreneur policies, as existing medical marijuana dispensaries would have been given preference for marijuana retail licenses, initially only leaving 20 licenses for new cannabis entrepreneurs. "It was a bad proposition," Jonathan Caulkins, a public policy professor at Carnegie Mellon University, told the Phoenix New Times. "It was designed to serve the interest of business owners."
Other reasons for why the proposition failed, Arizonans have speculated, include a general lack of understanding about marijuana and the benefits of legalization, as well as concerns over citizens driving under the influence of marijuana. Though Prop. 205 explicitly forbids operating a vehicle while impaired by marijuana, the measure also states that "a person may not be penalized by this state for an action taken while under the influence of marijuana ... solely because of the presence of metabolites or components of marijuana in the person's body," leaving many confused by the conflicting sentiments. 
Opinions against Prop. 205 may have also been swayed by the opposition campaign's focus on negative effects of legalization in neighboring Colorado, including the misuse of tax revenue from marijuana sales. But these claims were proven to be without merit, and Colorado elected officials penned a letter to Arizonans for Responsible Drug Policy that detailed the inaccuracy of statements made in the organization's anti-Prop. 205 campaign ads.
Though recreational marijuana possession now remains illegal in Arizona for the foreseeable future, the state does still allow for medical marijuana, which has been legal in Arizona since 2010.