Leonard Cohen lyrics: 9 songs to remember his meditations on the sacred and the mundane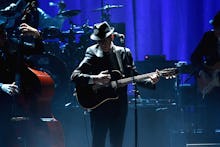 Because it's rare for insult to come without additional injury in one form another, in closing out one of the darkest weeks in American history, one of its greatest songwriters, Leonard Cohen, died at 82 years old. The singer's Facebook page shared the news Thursday, writing that the world had "lost one of music's most revered and prolific visionaries."
In a recent interview with the New Yorker discussing his latest album, You Want It Darker, it seems he saw death coming: "I've got some work to do," he said. "Take care of business. I am ready to die. I hope it's not too uncomfortable. That's about it for me." And yet he kept creating right up until his last breath.
It's hard not to view Cohen's final work as another David Bowie Blackstar situation. And just as we celebrated Ziggy Stardust's discography then, we laud Cohen's now. These are the lyrics that encouraged many writers to say Cohen was a more fitting recipient of a Nobel Prize for literature than Bob Dylan. 
Some songs below only have their lyrics listed; they're what matters. But others come with short contextual illustrations of just how much his words meant to the musical world.
"Hallelujah"
Now I've heard there was a secret chord
It took five years for Cohen to write "Hallelujah." Five years of Cohen "banging my head on the floor and saying, 'I can't finish this song,'" as he once described the process. It almost never saw the light of the day, and it took years for the world to recognize its brilliance. Roughly 300 covers later, by artists ranging from Bob Dylan to Justin Timberlake to Neil Diamond, its four verses — whittled down from 80 — stand like the four Beatitudes of pop songwriting.
"So Long, Marianne"
We met when we were almost young
"Bird On the Wire"
Like a bird on the wire,
"Almost Like the Blues"
There is no God in Heaven
"Chelsea Hotel #2"
And clenching your fist
"That's No Way to Say Goodbye"
I loved you in the morning, our kisses deep and warm
Cohen had a gift for turning even the most mundane scenes from his life into profound meditations on the human condition and spirit. "That's No Way to Say Goodbye," for one, came out of a dismal stay at the Penn Terminal Hotel. As Cohen explained to an audience in Montreux, Switzerland, in 1976:
This is an old song that I wrote when I was old. I was a lot older then. I was living in a brown hotel room on 34th Street in the Penn Terminal Hotel. Perhaps some of you know it. Perhaps some of you were living with me then. I'm glad I don't remember you. It was a terrible hotel room. The windows wouldn't close. The radiator wouldn't stop hissing. The faucet wouldn't stop its mythological drip into the destroying porcelain sink. I was with the wrong woman as usual. But as your Eastern physicians, Eastern metaphysicians know, just as from the darkest mud blooms the whitest lotus, so from the brownest hotel room you occasionally get a good song.
"Famous Blue Raincoat"
And what can I tell you my brother, my killer
"Anthem"
Ring the bells that still can ring
"You Want It Darker"
If you are the dealer, I'm out of the game
The title track off Cohen's final album You Want It Darker, the songwriter attempted to comes to terms with death and the nature of God, who, if we are to understand scripture correctly, orchestrates all human and world affairs. He seemingly wants it "darker," and Cohen resigns himself to this fate. 
The song references the Old Testament refrain "Hineni," words Abraham speaks to God when asked to sacrifice his son Isaac. In an interview with the Montreal Gazette, cantor Gideon Zelermyer, who sings on the track, explained the words as a reference to "Leonard as someone trying to come to an understanding with God, someone reckoning with final tallies in the Book of Life: Here I am — I am ready."