After campaigning against Obamacare, Donald Trump wants to keep two major provisions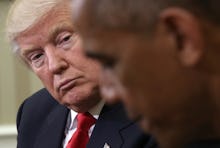 After spending much of his 2016 presidential campaign pledging to repeal the Affordable Care Act, President-elect Donald Trump told the Wall Street Journal in an exclusive interview Friday that he favors keeping two of the ACA's major provisions. 
One of the provisions in question is banning insurance providers from denying coverage to Americans with pre-existing conditions. The other provision allows young Americans under the age of 26 to stay on their parents' health insurance plans.
"I like those very much," Trump told the WSJ, a day after his meeting with President Obama on Thursday. "I told [Obama] I will look at his suggestions, and out of respect, I will do that."
Trump's remarks signal a potential compromise on the 2010 health care law that he once described as a "disaster" on Twitter while campaigning for the Oval Office. 
"Obamacare is a total disaster," Trump tweeted on Nov. 3, five days before he won the 2016 presidential election. "Hillary Clinton wants to save it by making it even more expensive. I will REPEAL AND REPLACE!"
Trump later added in his interview with WSJ, "Either Obamacare will be amended, or repealed and replaced." 
The president-elect, who said his administration would be moving rather "quickly" on the ACA, also confirmed that other top priorities will include securing the U.S. border with Mexico and deregulating banks so they can "lend again."