13 times Donald Trump could have said "stop it" to bias-fueled violence, but chose not to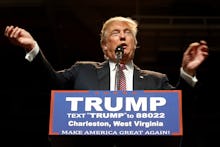 When asked by CBS' 60 Minutes on Sunday about numerous reports that people have been harassing and attacking minorities in his name, President-elect Donald Trump, for once, didn't have much to say.
"I would say don't do it, that's terrible, because I'm going to bring this country together," Trump said in his first televised sit-down interview since he was elected president of the United States on Nov. 8. 
Trump told interviewer Lesley Stahl that he'd only heard about "one or two instances" of racism and xenophobia against Latinos and Muslims since he was elected.
"[But] I am so saddened to hear that," Trump added. "And I say, stop it. If it helps. I will say this, and I will say right to the cameras: Stop it."
At this point in Trump's journey to the White House, "stop it" seems a bit late. For the past 15 months, he has has relied on demonizing Muslims, vilifying Mexicans and insulting women to galvanize voters. He has offered to pay the legal fees of supporters who assaulted black and other minority protesters at his rallies. Attacks on Muslims in the U.S. have increased sharply in the course of Trump's campaign.
A May 2016 study from Georgetown University's Center for Muslim-Christian Understanding found that after Trump said he'd consider shutting down all mosques in the U.S. in Nov. 2015, anti-Muslim hate crimes tripled the following month. 
In December 2015, when Trump called for a "total and complete shutdown" of all Muslims entering the country, 53 anti-Muslim incidents — including vandalized mosques, arson attempts and Muslim Americans physically assaulted — occurred that month alone.
These incidents include a mosque vandalized in Bayonne, New Jersey, on Oct. 14, and the Fort Pierce Islamic Center burnt to the ground in Fort Pierce, Florida, on Sept. 12. They include a Muslim woman who was accosted by a white woman shouting racial epithets and praise for Trump's anti-Muslim rhetoric at a Starbucks Coffee location in Washington on April 21. 
They include the story of Hussain Saeed Alnahdi, a 24-year-old Saudi Arabian student at the University of Wisconsin-Stout, who was killed by a white man after being physically assaulted and knocked to the ground unconscious.
These statistics aren't just numbers. They are communities, neighborhoods, men, women and children. Nor are they all linked directly to Trump, though their occurrence during his campaign is likely not a coincidence. All are instances where Trump might have told his future electorate to "stop it," but simply chose not to. Now, considering how central racist and xenophobic enmity have been to his success, it's a tough sell that he can credibly change course now.
Here are 13 more times when Trump could have told people to stop assaulting and harassing people of color in his name:
1. In Richmond, California, a white man began shouting at Muslims leaving a mosque after prayer services on Dec. 4 and shouted, "I'm going to kill you all." The man, who later pled guilty to making terrorist threats and was sentenced to 90 days in jail with three years probation, made several Facebook posts before the attack praising Trump.
2. During a basketball game at Andrean High School in Merrillville, Indiana, students held up a poster of Donald Trump's face and chanted, "Build a wall," at Latino basketball players on Feb. 27. 
3. A white Trump supporter assaulted two male Wichita State University students — a Muslim American and a Latino — at a local Kwik shop. He reportedly began chanting "Trump! Trump! Trump!" Before driving off, the attacker added, "Make America great again! You guys are the losers! You guys, we'll throw you over the wall!" 
4. At Beloit Memorial High School in Beloit, Wisconsin, on April 8, black and Latino soccer players walked off the field when opposing fans chanted, "Donald Trump, build that wall!"
5. A 20-year-old black man was visiting his elderly grandfather in Cleveland, Ohio, on June 3 when a white neighbor threatened the pair with a knife. The perpetrator reportedly said to police officers, "The RNC will take care of them, Donald Trump will fix them because they are scared of Donald Trump."
6. A black father of three was verbally and physically assaulted by a white hospital worker when she saw him talk to a white mother with reportedly biracial-looking children. The woman also allegedly said: "Get your black kids out of here. Do you even have a job? Do you know what a job is, n?igger? This is what Donald Trump's talking about, people like you."
7. While riding a New York City subway, two hijab-wearing Muslim women were berated by a white man who told them to "go back home and take their bombs with them." He also reportedly said "Donald Trump is right," in reference to the president-elect's anti-Muslim rhetoric.
8. A white man on a New York City Subway verbally assaulted two black women in July 2015. "Worthless stupid fucking stupid cunt," he said. "Donald Trump 2016! Put them back in the fucking fields where they belong."
9. Black Lives Matter activist Mercutio Southall was choked and beaten by Trump supporters at a Birmingham, Alabama, campaign rally in August 2015.
10. A black man and his white girlfriend kissing were stabbed by a self-described white supremacist in Olympia, Washington, on Aug. 16. The assailant reportedly told law enforcement that he had planned on attending a Trump rally to "stomp out" the Black Lives Matter group. 
11. Two white men urinated on and assaulted a 58-year-old homeless Latino man in Boston on Aug. 17. One of them said: "Donald Trump is right, all these illegals need to be deported," according to the Atlantic.
12. Three white militia men known as "The Crusaders" tried to bomb a mosque and a housing complex of Somali immigrants in Garden City, Kansas, on Oct. 14. The men also had their social media profiles filled with anti-Muslim content, and one of them made a public endorsement for Trump. They also organized a "security detail" to protect Trump during his campaign stops in Pennsylvania and Ohio.
13. A black church in Greenville, Mississippi, was spray-painted with the words "Vote Trump" on Nov. 1, then set on fire.