Thousands gather in New York City to protest President-elect Donald Trump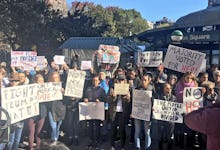 Thousands gathered Saturday in New York City's Union Square for a march in protest of President-elect Donald Trump — the latest of several protests to hit the busy public plaza this week.
The massive crowd of protesters congregated outside of the metro hub around noon before beginning a peaceful march to Trump Tower in Midtown. 
"Donald Trump go away, racist, sexist, anti-gay," some chanted as they walked. "Say it loud, say it clear, refugees are welcome here."
Protesters flooded Manhattan's Fifth Avenue, blocking off traffic as they proceeded along their route.
Alexis Frasier told Mic's Aaron Morrison during the march that Trump's election had left her feeling deeply hopeless and isolated from the parts of the country where a large majority of voters supported the Republican candidate.
"This week has just been horrendous," she said. "This week has really destroyed a lot of my faith in what this country was. I'm just afraid. I'm terrified. I have kids."
On a Facebook event page created for the march, more than 16,000 people had marked themselves as "Attending" the event, and over 32,000 had expressed interest in attending.
"Join us in the streets! Stop Trump and his bigoted agenda!" read the event's description. "This is a peaceful protest. Violence/vandalism will not be tolerated."
Alyssa Pariah, a trans woman and organizer with Socialist Alternative, said protesters are sending a message that they are disgusted that "someone who is as openly racist, sexist, bigoted as Trump could possibly be the leader of our country."
"The danger of right populism is that it comes with racism, homophobia, transphobia and misogyny," Pariah said. "We need to be here engaging in civil disobedience because we believe that struggle pushes people to more radical ideas."
Filmmaker Michael Moore also was in attendance and told Mic that he made his way inside Trump Tower to look for the president-elect.
On Wednesday night, the same location was host to a similar anti-Trump protest, which also drew massive crowds and shut down traffic as organizers snaked their way through Midtown to march the same route to Trump Tower.
In the wake of Trump's stunning election victory — an outcome that almost no one had predicted — anti-Trump protests have swept the nation. Crowds have sprung up in cities like Boston, Portland, Chicago and the District of Columbia to express dissent for the president-elect.
On Saturday, the crowd's energy at Union Square suggested that the protests show no signs of slowing down or abating. 
"If we don't stand up to him every day, with every waking breath, with every ounce of strength that we have in us, he could ruin the entire world, and I am not exaggerating," one man addressing the protesters said.
Additional reporting contributed by Aaron Morrison.