Man reportedly threatens to torch woman in hijab at University of Michigan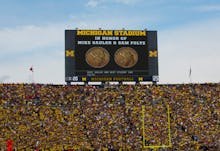 An unknown individual University of Michigan officials described as an inebriated 20 to 30-year-old white male approached a female student in downtown Ann Arbor on Friday night and threatened to set fire to her hijab, the Michigan Daily reported.
Posts to social media by members of the university community showed school officials sent out a crime alert for "intimidation" after the man "demanded she remove her hijab or he would set her on fire with a lighter."
"She complied and left the area," the alert continued. "The Ann Arbor Police are actively investigating."
In September, BuzzFeed reported unknown parties had posted fliers on the University of Michigan campus spreading racist lies about black men and denouncing interracial dating, and in another incident, spray-painted the words "KKK" and "Leave Niggers" on a building.
Since the election of Republican Donald Trump as president on Tuesday night, social media users, journalists and others have recorded numerous acts of racial intimidation or politically-motivated violence.
Thousands have turned out in protests across the country to denounce Trump's widely unexpected rise to power, and in particular accusations of his "gross misogyny, unscrupulous business practices, unabashed nativism  and lying." In some cases protests have broken out into outright violence from both demonstrators and authorities, with vandalism, fighting and arrests.